The ink on the Owens marriage license has not had time to dry yet, but that didn't stop the social media trolls from commenting on the bride's wedding-day hairdo. 
Olympic gymnast Simone Biles, 26, and Houston Texans safety Jonathan Owens, 27, tied the knot in an intimate courthouse ceremony sharing photos to Instagram on Saturday, April 22.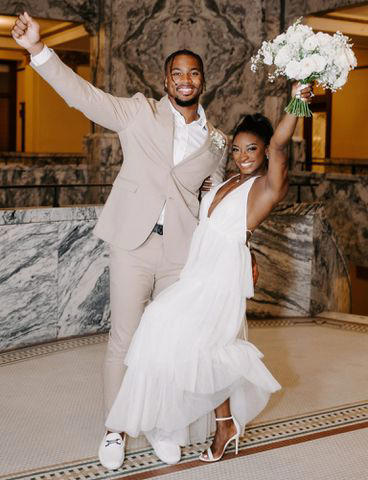 For her big day— Bile's wore a high ponytail with cascading waves, drawing criticism from social media commenters who pointed out the bride's edges— Bile's quickly responded.
"I think they also forget I live in HOUSTON TEXAS & I sweat those out!! soon as we stepped outside for pics but they can keep complaining idc idc idc," replied Biles.
Hmm, a new husband and gold medals— let's go on record to say this celebrated gymnast is winning regardless of the haters.
Congratulations again to the lovely couple! Oh, and Simone, you looked stunning!
How would you handle negative social media comments about your wedding day?
Top photo: RAETAY PHOTOGRAPHY