NFL legends Bo Jackson and DeMarcus Ware recently went head-to-head in a cookoff competition on behalf of Crown Royal at the Southern Smoke Festival in Houston, which benefits hospitality workers and the military through the Southern Smoke Foundation. DeMarcus in a purple apron and Jackson in black with the logo Kick Off With Crown Royal were there ready to show off their BBQ skills for a great cause. Here the Alabama natives share their personal stories of connecting with the hospitality and military community. 
The two joked that their go-to-dish to cook for their families would still be BBQ—tying it back to their southern roots
DeMarcus Ware
My mother was a school cafeteria worker, and my grandfather worked at a community center as a janitor, says Ware of his connection with giving back to the hospitality community. Though he and Jackson have been fortunate to be on a pedestal for having successful NFL careers, he also sees the people he gives back to in the same manner he watched his mom, dad, and grandparents working three to four jobs.
Ware, who won a Super Bowl championship with the Denver Broncos (2016), has a partnership with Crown Royal that spans six years when the whiskey brand first rolled out the "largest-ever responsible drinking campaign: The Water Break." (a movement called the "generosity hour"). It encourages responsible game day consumption and reinforces the importance of drinking in moderation and hydrating between alcoholic beverages). Ware also is involved with the Purple Bag project, which gives back to the military.
Ware says that when COVID hit, the emphasis on helping the military and the hospitality workers came together with what Crown Royal was already doing with the Water Break campaign. I always give a great deal back to the military, and this is a great company to work with (for the cause), says Ware. Adding, I was already giving back myself, but then you have a company where it brings you to events like the Southern Smoke Festival to meet guys like Bo Jackson, where you have these cool experiences to raise money. For me to give back on a bigger platform, that's what I'm always here to do.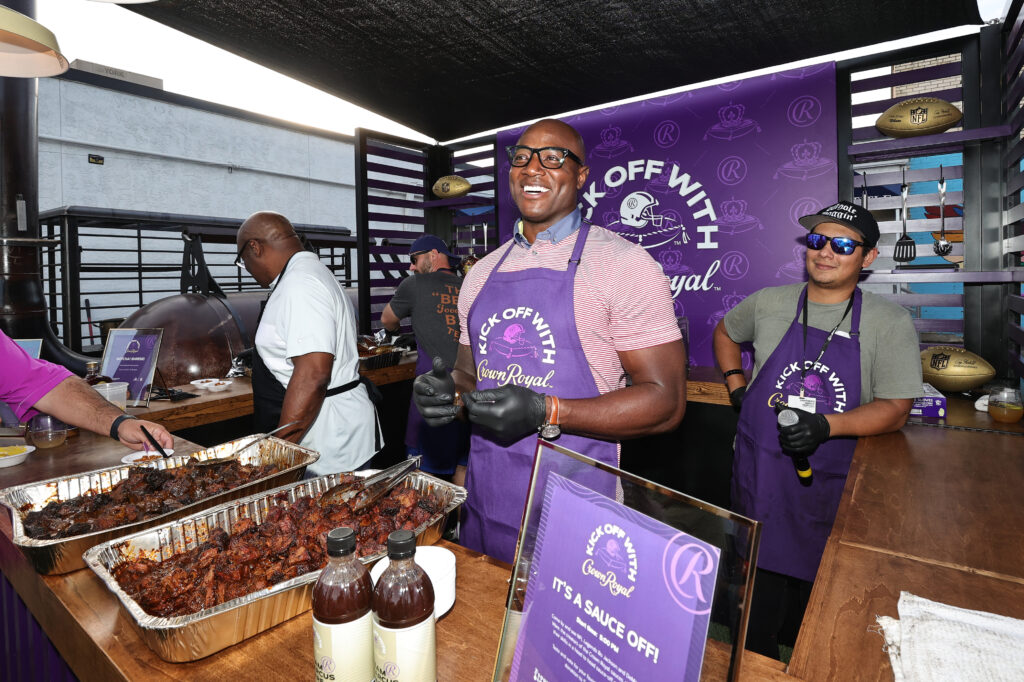 Bo Jackson
I've been a product of the hospitality world for as long as I can remember because of my mother, says Jackson. The former athlete is the only one in history to be named an All-Star in baseball and football. Casually eating a small bag of SkinnyPop popcorn, he continues the conversation. She cleaned people's homes during the day and hotels at night every day, from sweeping the floors to serving in the dining rooms. The thing that I realized is part of the hospitality world got me to where I am now. Jackson offered that though he has yet to go public with an idea he created, he did say it focuses on the "I see you" mentality of helping others. Explaining people in the hospitality industry are never seen, or people walk by them as though they don't exist. His thoughts go back to his mother. I always stop and speak (to hospitality workers) because that was my mother when I was a kid. That was my mother sweeping the floor. That was my mother vacuuming that hallway or making those beds you sleep in—and serving you that steak. Nobody paid her any attention because they were all in conversation—talking or walking down the halls with their bags. 
Jackson leans toward the round white table where we're sitting before saying, my thing is, I see (you) that is those in the hospitality industry, which he shares that he gives something to—every now and again. In hopes that someone saw my mother when she was here, says Jackson. She's in heaven—you hear him say as he, for a moment, looks up at the ceiling.
Jackson's participation with the Southern Smoke Foundation and Crown Royal came from the "give back" they have for the hospitality community which made him come on board. Yes, I'm here for Crown Royal and Southern Smoke, but this is all about mom. It's all about recognizing my mother.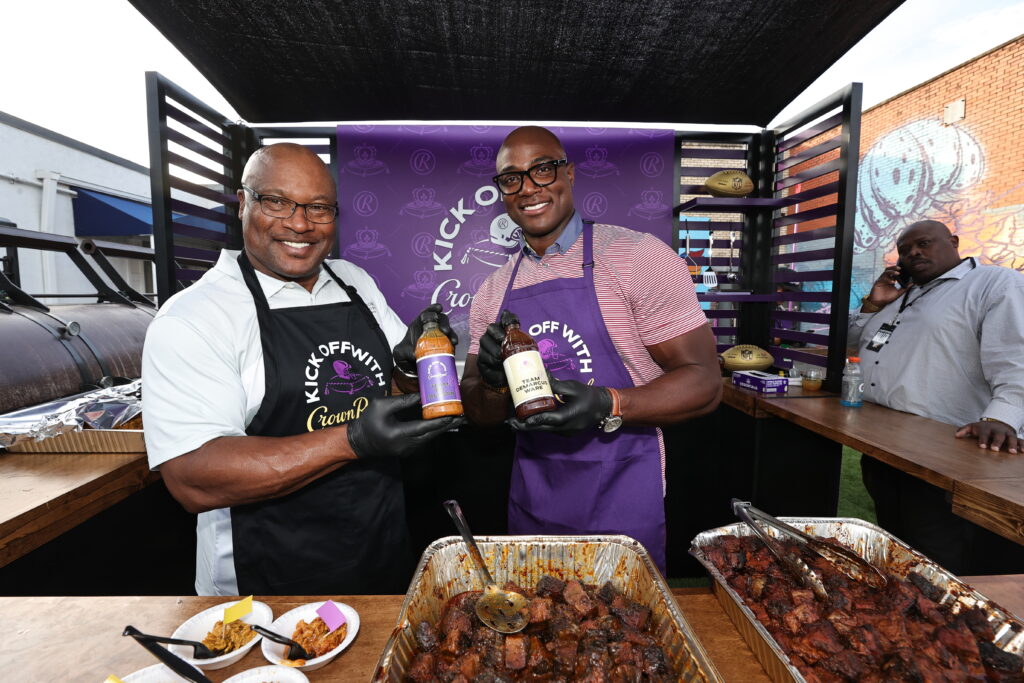 When we asked these two NFL legends if football or going head-to-head in a cooking competition is the most competitive, Jackson laughed before responding. The cooking competition because we don't have eight other people out on the field helping us. And it's just us, so if we make a mistake, it's on DeMarcus or me. If we're both in the final stage of the cooking competition, we have already won. It's about us both going out and preparing something individually for the public, where everybody can say, Wow! That's good. Jackson admits it's not about the competition but about people pushing that button (to vote for the winner), raising money for the foundation overall. Jackson and Ware are proud to be products of the hospitality world. Their purpose for working with the Southern Smoke Foundation and Crown Royal: Is to ask themselves, "How can I be better to myself to make a better and bigger impact?"
The two joked that their go-to-dish to cook for their families would still be BBQ—tying it back to their southern roots. "Depends on what side of the tracks you're from," joked Ware when he says either sweet potato pie or apple pie has to go with cooking BBQ. The two, almost in unison, say you can't forget the potato salad, macaroni & cheese, and bread. If you smell BBQ, that means family and a community, says Ware as he likens the togetherness of family and giving back (the same), as Jackson nods in agreement before heading off to sign footballs for auction.
(Photo by Bob Levey/Getty Images for Crown Royal)