Sean Patrick Thomas is best known for film favorites Save the Last Dance and the Barbershop franchise. His big and small screen work includes starring in The Tragedy of Macbeth with Denzel Washington, who he also worked with on the Broadway and movie production of A Raisin in the Sun. Here he speaks about his latest role as Gene Mobley in the film "Till." He plays the husband of Mamie Till Mobley, who was the mother of Emmett Till. Thomas talks about the film's impact on himself and what he feels people who watch the movie should know. Thomas also talks about a popular film from twenty years ago with actress Kerry Washington that has the two teaming up again in a Hulu limited series.
You portray civil rights activist Gene Mobley (The husband of Mamie Till-Mobley) in the movie "Till." In what way did this film impact you? And how did you mentally prepare yourself for the role?
The film impacted me in such a way I felt like I knew the story, but once I delved into the script on the set and really got into the skin of my character, I realized how much I didn't know, like black men were involved with the kidnapping of Emmett Till. It's an example of something that kind of blew my mind. It reminded me this whole story is so complex and multi-layered that it just adds to the tragedy. You see the connection between what happened then with Emmett Till and what happened in more recent history with Ahmaud Arbery and Trayvon Martin. Black boys and black women killed because they're black, and the historical impact is troubling and sobering.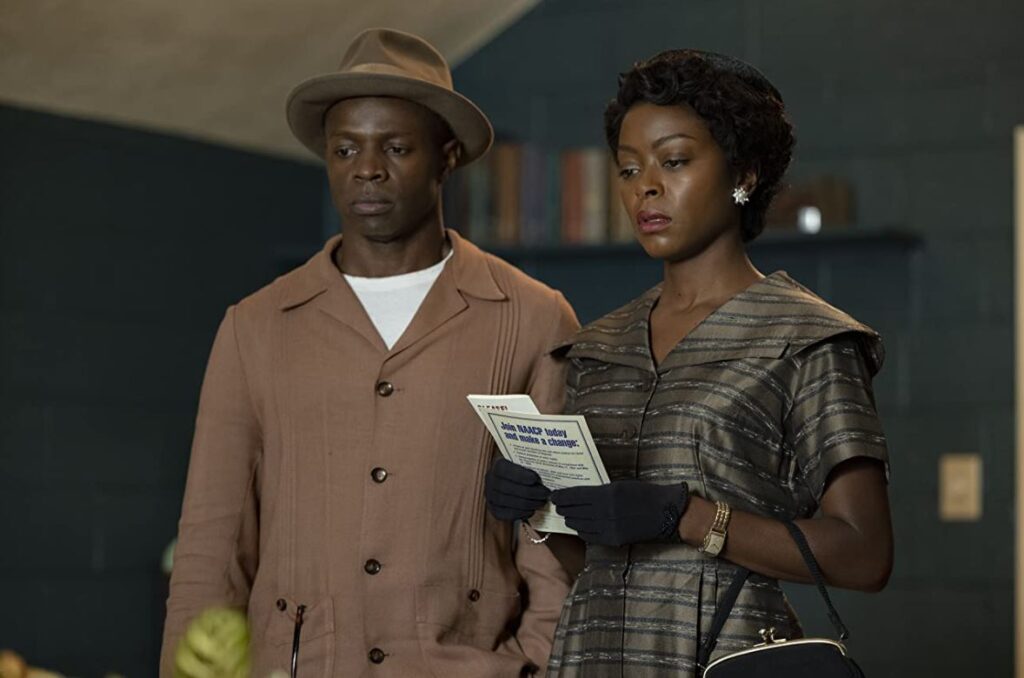 Regarding how I prepared for the role: I spent a lot of time with a person that actually knew my character (Gene Mobley), and he knew Mamie Till Mobley very well. One of the producers of the film Keith Beauchamp, knew them very well because he spent a lot of time with the couple. Beauchamp was a great resource for finding out everything I could about my character and how Gene and Mamie were in their relationship. I got information from the director, Chinonye Chukwu, and her team and archival things like pictures and articles, and I also read Mamie Till's autobiography. When you put all that stuff together, you do the best you can to piece the character together and present it.
How important was it to show your character's relationship with Emmett Till?
It was important because people needed to understand that Emmett had a full life with people who loved him outside of his mother. He had a grandmother and family and friends who adored him. Gene Mobley looked at Emmett Till like a son before the (father-figure) was to marry his mother. I want people to know how loved Emmett was and the hole he left in all of their lives. You get a sense of that love when you watch the film and see Gene and Emmett's relationship before Emmet's death.
It's hard to believe it's been over 20 years since the movie "Save the Last Dance." What was it like reuniting with your former costar Kerry Washington on the Hulu limited series Reasonable Doubt? 
It was wonderful and a real homecoming to get to work with Kerry again. We worked so well years ago with Save the Last Dance because we always had a natural rapport—chemistry and high regard for one another. Working with Kerry again in a different capacity is a special feeling. We joked that we were babies when we first worked together, and now we're both full-grown. I like the feeling of growing and evolving as people and artists—and now being connected again. Even though we're older and wiser, it feels exactly the same once we were on set together—natural and warm. Kerry is a great director. She has total command in front of and behind the camera.
You worked with Denzel Washington in the critically acclaimed, award-winning feature, "The Tragedy of Macbeth." What was that experience like, and what advice did he share with you on set?
I didn't have any scenes with Denzel on the set of Macbeth, so our paths didn't cross on camera, but it was great to see him again during the rehearsals and read-throughs from our time working together when we did the play "Raisin in the Sun. Me, I got the opportunity to watch a master at work when we rehearsed Macbeth. Seeing a true master of his craft build a character and go through the process was a gift. I felt like a kid in a classroom to be around him.
The Barbershop franchise is loved by its many fans. What would you say your character Jimmy James would be doing today in 2022?
I think my character at this point would be the mayor of Chicago, who has a passion for his community and black people. He doesn't always communicate it in a constructive way, but he passionately wants black people to succeed and thrive. I think he would be doing everything he could in Chicago to improve black people's lives.
What do you want moviegoers to take away from seeing the film Till?
I want moviegoers to connect the dots to see what happened to Emmett Till and what happened to Ahmaud Arbery and Trayvon Martin (and the countless other black men and women) and connect the dots to when we were first brought over here and placed on these shores. Connect the dots between the past and the present where you have a sense of the history and you can do active things right now to try and make it better for our children, so they don't have to connect the dots when we're gone because we would have done things better and changed things.
Photo Credit: Getty Images
The movie Till is in theaters everywhere