Super Bowl Champion Tim Wright (He won with the New England Patriots in 2015) says entrepreneurship was always in his blood (DNA). Today, off the field, he is the Co-founder of Dome Audio Inc., "An east coast-based company established in 2018 and viewed as a Super Boutique Tech Company that brings forth the most innovative, versatile, fashionable, and functional Audio-wear headphones in the headphone space." The company came about when his business partner Ben White, a 25-year music industry veteran with an "ear of sound" for songwriting and producing, got his hands on a pair of bone conduction headphones and turned them into the "world's first four-speaker system bone conduction headphones." Wright says that after he left the NFL that same year, he made a choice to control his future by owning a business, and it's when he joined White to create Dome Audio. He describes the decision as "jumping into a cockpit and taking Dome Audio to the moon." Read more about how this former athlete brings the hearing, deaf, and hard-of-hearing world together through One Headphone (One Sound). 
---
How well would you say you navigated from the sports world to the tech world?
It was definitely natural for me. Background story: At 13, I picked up a pair of clippers because I love art and connecting with people. Every time someone sat in my chair, it was like a blank canvas for me to be able to express my art. Through that, and as you know, whether you're getting your hair or nails done or getting groomed or taken care of, that hairstylist or that barber is like a therapist to you. I started cutting more of my friend's hair in high school. When I got to college, I literally became the barber of Rutgers University. I was a full-time student, captain of the football team, and a full-time barber. There were students that came to Rutgers from around the world because it is one of the most diverse schools in the country, and I was cutting their hair. I got the opportunity to communicate with these individuals to learn what they liked or didn't like and what was their consumer behavior and learning all of these things, and I didn't even know what my future held. I just knew what I was doing, and I loved what I was doing. And now, taking that (same principle) and bringing it to what I do with Dome, I am able to connect with any person from any walk of life. I'm able to have that level of empathy and understanding and truly have that identity to communicate with consumer strategies and ways to reach the end customer, and that's what I've been able to do with Dome and that allowed me to transition seamlessly from the NFL arena to the actual business world.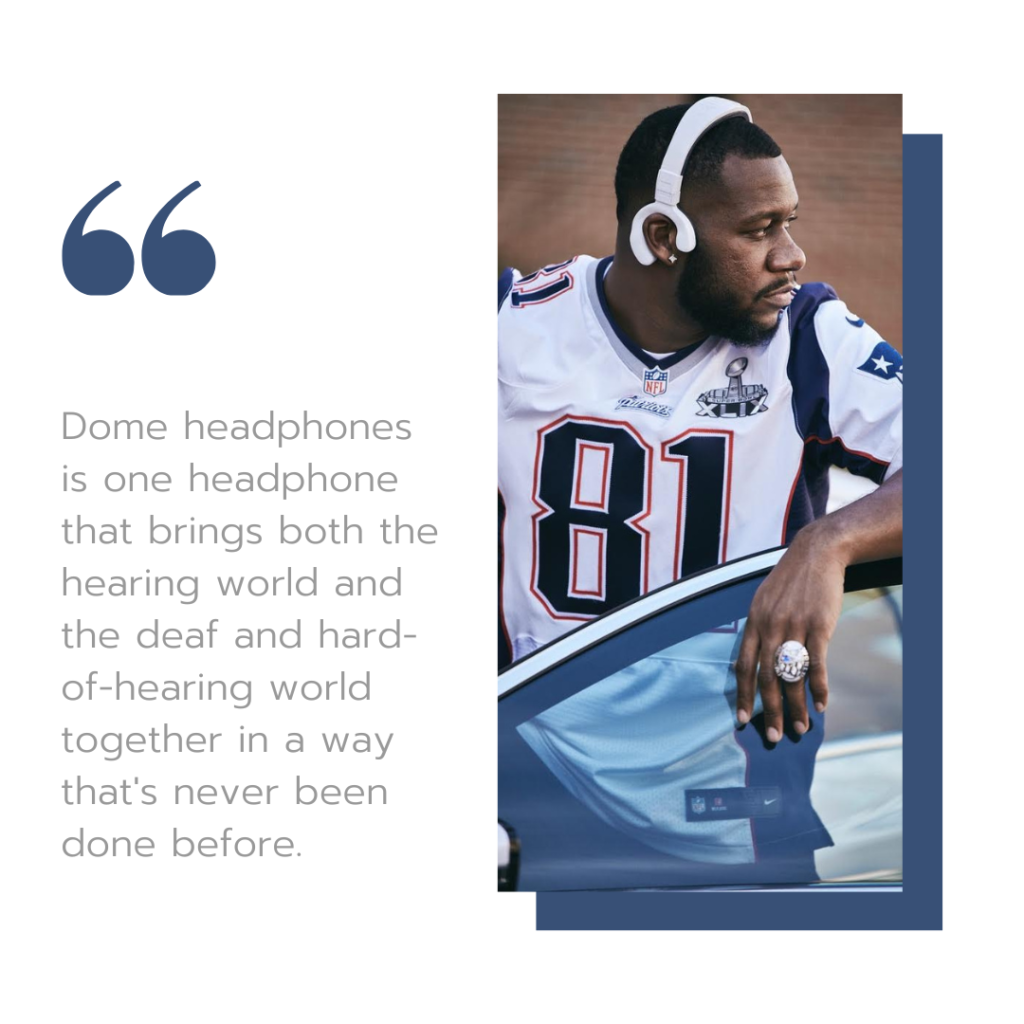 Please explain the importance of the company's inclusivity for the deaf/hard-of-hearing community.
The technology of bone conduction has been around just as long as the technology of air conduction, meaning they both originated and were used in the military. Established and major brands like Beats, Bose, Sennheiser, and Sony (with the concept of the technology itself) often overlook the deaf and hard-of-hearing community. So the introduction of the design my partner created with four speakers brings full fidelity to the experience for those with hearing challenges. We already had the notion that bone conduction could potentially work with the deaf and hard of hearing, but it wasn't until we witnessed it with our own eyes and our prototype when we put it on the heads of people who expressed that they had a hearing loss in one ear and all of a sudden they're saying, "The sound is symmetrical on both sides of my head." I had never experienced that before or there were people with hearing aids in their ears, and because our headphones wrap around the ear, they can wear their hearing aids at the same time while wearing our headphones. The responses we were getting from all the people in the community were so fulfilling. We thought, "We have to bring this to a larger audience. We were then invited to Gallaudet University, located in D.C., by the school's president. It is a world-class institution completely filled with hard-of-hearing students and faculty. We brought Dome Audio there, and we sent shock waves through the community. At that moment, we said, "Dome headphones (One headphone) can bring both the hearing world and the deaf and hard of hearing world together in a way that's never been done before." The message is how expanding the technology of headphones for all walks of life impacts lives. It inspires us every single day while we're grinding and building a foundation in this company to tell our (unique) story to the world and, and it's been history ever since.
Will you host a Super Bowl party? Who do you think is going to take home the win?
 I always do a little something special for the Super Bowl. I remember in 2017. I went to watch the Atlanta Falcons and the New England Patriots. It was the year I tore my ACL, and I was in the stands cheering from the other side rather than playing on the field. It was incredible. So every year, with my family and friends, we celebrate and watch the game. Who am I going with this year? I am going with the Eagles. I played for the Chiefs in some of my football career—all the respect in the world for Andy Reid. Pat Mahomes and Travis Kelce. Also, Isiah Pacheco, and Mike Burton, who both went to Rutgers, I wish them guys, well, but it's something about the Eagles this year. Their tenacity, their focus, their swag, and the culture that they're building. I'm always rooting for the underdog. I'm the underdog in my story. I should not have made it in the NFL, and I ended up having the type of career I've had, so I'm always a fan of the underdog.
Photo Credit: Mark J. Rebilas