Phenomenal Woman
Pretty women wonder where my secret lies.
I'm not cute or built to suit a fashion model's size
But when I start to tell them,
They think I'm telling lies.
I say,
It's in the reach of my arms
The span of my hips,
The stride of my step,
The curl of my lips.
I'm a woman
Phenomenally.
Phenomenal woman,
That's me.
A conversation with Dr. Maya Angelou…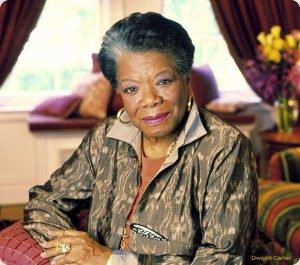 LISTEN TO THE COMPLETE INTERVIEW HERE
La Trisha: You have received numerous accolades throughout your career, most recently the BET honors which, was presented to you by First Lady Michelle Obama.  Please give us your thoughts on being given the Literary Arts Award from the BET family?
Dr. Maya Angelou:  It is a wonderful thing to receive a compliment and embrace a hug from a friend and from one's own people. I don't know anything greater than to receive the commendation from African Americans who thank me for my work, it's a beautiful gesture. It was wonderful to receive from my President, the Freedom Award and to know that I am a member of the group most recently bought and sold with everybody's agreement and the people who longed for freedom. When I accepted that award, I thought of all the people who had come from all over the world to find freedom in the United States. I accepted the award for African Americans, every slave who got off every boat, every European, and every Asian who came here searching for freedom. It's a blessing to receive these kinds of awards because they say, "Thank you for doing the best you can."
La Trisha: Yes, and you are so deserving!  You are a celebrated poet, memoirist, novelist, educator, dramatist, producer, actress, historian, film maker, and civil rights activist. How does one serve in that capacity without serving into their own ego when one has acquired or wish to acquire your level of success?
Dr. Maya Angelou:  I realized that I didn't get here by myself.  I am a child of God and that's a blessing and because I have the blessing of God and the knowledge, I have no modesty because it is a learned adaptation.  People are just fooling themselves in trying to fool other people when they say, "Oh me! Oh! I'm modest, I can't do this!"  I have no modesty, I have humility. Humility comes from inside out and it says, "Someone was here before me and someone has already paid for me." I have a responsibility to pay for someone else who is yet to come, there is no room in there for ego! I am grateful to God. I am grateful to all my people who have helped me and all the ways they've helped me, the teachers, preachers, rabbis, and priests.  Everyone that has helped me, I am grateful and I try to help someone else as often as I can.
At the time this issue went to press: The Maya Angelou Center for Health and Wellness opened June 1, 2012, in Winston-Salem, North Carolina.
La Tasha:  The Maya Angelou Center for Health and Wellness advocates to address the unique needs of women of all ages. Please tell me why is this important to you?
Dr. Maya Angelou:  It's very important to be on one's own side.  I am always sorry when I hear women say, "I have more friends among men than I do among women. "Now I think, That is the dumbest thing I can hear" (we laugh)!   It is a wonderful thing to be on your own side, to be your own advocate.  I am grateful to God that the new hospital is named for me, for women's health and wellness, it's a blessing!  There is another health institute of research named for me and I'm grateful! I want women to know I am on your side and they should be on their own side. That does not mean that I am not on men's side too, I am! I just know that the level field is not leveled and more often than not there is more money and research done for men's health and wellness, so I support first, women! I encourage women to go to the hospital, get the examinations, and see after themselves…you really have to do that!  How can you ask someone else to look after you if you don't look after yourself?  "I am very grateful for the new hospital and honored to have it name for me!"
La Tasha: It is such an honor to have those facilities named for you and for you to be the voice advocating for the health of women.
The literary world today, what advice would you give to someone getting into writing or wanting to become an author?
Dr. Maya Angelou:  I would encourage women to read, read, and read! Read aloud! You really need to read so you can hear how the language sounds, hear the melodies, the music, the rhythm of the languages.  I would encourage women to go back to the 19th century and read the poetry of women, of African American, White American, Asian, and Spanish women. Read the poetry and read it aloud…read it to your daughters, encourage them to read it… to your nieces…Yes!  Then you can really begin to see, "Somebody has been here before me, somebody has felt like I feel, someone has been lonely before me."
La Tasha: Your favorite word is "Joy." It is what you have often expressed through penmanship when signing the books you have written over the course of the years. My question is simple but I believe your response will carry both the substance and wisdom that we have come to know from you.  Dr. Maya Angelou, I ask, "What is joy in all that surrounds you?"
Dr. Maya Angelou:  "Ahhh, Thank you!" Christ said I come to bring joy and bring it abundantly. Other people in other races have brought joy.  Joy is a freedom. It helps a person to find his/her own liberation. The person who is joyous takes responsibility for the time he/she takes up and the space that he/she occupies. You share it!  Some of you have it…you share it! That is what joy is!  When you continue to give it away you will still have so much more of it.
La Tasha:  What a beautiful response! We really appreciate in this day in time what you stand for. You are a representation of being your whole self, your healthy self, and your better self.  With that, we honor you and thank you so much!
Dr. Maya Angelou:  Thank you!
La Trisha: Dr. Maya Angelou, I have two quotes of yours that I love, the first one, "I've learned that people will forget what you said, people will forget what you did, but people will never forget how you made them feel." I love to live by those words, and the second one is, "Nothing will work unless you do." I want to say thank you for those words throughout the years.
Dr. Maya Angelou:  Thank you so much! Let me give another one to both of you and to your listeners.
"Courage is the most important of all the virtues because without courage you cannot practice any other virtue consistently."  "You can be anything erratically; kind, fair, true, generous, loving…but to be that thing time after time, you need courage, and that doesn't mean the battlefield, or picking up a 100lb weight and running into battle− I don't mean that, I mean the courage inside yourself, it allows you to see yourself in other human beings."
La Tasha and La Trisha: That is very beautiful, Dr. Maya Angelou! We love the opportunity to share your voice and your words with our readers. It was such a pleasure speaking with you!
Dr. Maya Angelou: "Thank you, you're wonderful ladies to talk to and I thank you very much!" God bless your hearts!
La Tasha and La Trisha: God bless you too!
I walk into a room
Just as cool as you please,
And to a man,
The fellows stand or
Fall down on their knees.
Then they swarm around me,
A hive of honey bees.
I say,
It's the fire in my eyes,
And the flash of my teeth,
The swing in my waist,
And the joy in my feet.
I'm a woman
Phenomenally.
Phenomenal woman,
That's me.
Men themselves have wondered
What they see in me.
They try so much
But they can't touch
My inner mystery.
When I try to show them
They say they still can't see.
I say,
It's in the arch of my back,
The sun of my smile,
The ride of my breasts,
The grace of my style.
I'm a woman
Phenomenally.
Phenomenal woman,
That's me.
Now you understand
Just why my head's not bowed.
I don't shout or jump about
Or have to talk real loud.
When you see me passing
It ought to make you proud.
I say,
It's in the click of my heels,
The bend of my hair,
the palm of my hand,
The need of my care,
'Cause I'm a woman
Phenomenally.
Phenomenal woman,
That's me.
Maya Angelou
Interview by La Trisha McIntosh and La Tasha Taylor
Photo courtesy of Maya Angelou