Duke and Duchess of Sussex first child officially made a public appearance during the couple's royal tour of South Africa on Wednesday. Proud parents, Prince Harry and Meghan Markle continued their tour by introducing baby Archie to the Nobel Peace Prize Archbishop Desmond Tutu and his daughter Thandeka Tutu-Gxashe.
The royal couple posted a few memorable pictures on their social media. One photo captioned, "Arch meets Archie!" at the meeting.
Another image showed the 87-year-old Archbishop giving Archie a gentle kiss on the forehead. "Thank you, Archbishop Tutu, for your incredibly warm hospitality, Archie loved meeting you!" the couple wrote.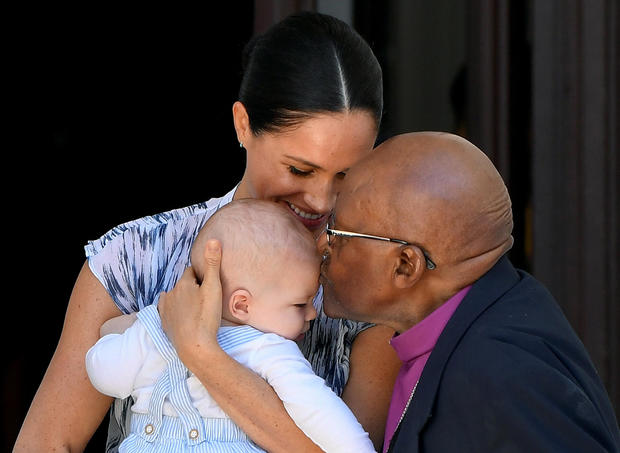 The royal family spent more than an hour engaging with the Archbishop on the historical premises of his Legacy Foundation in Cape Town, The Old Granary. Archie, who is only four months old, wore a long-sleeve white top and overalls while soaking up the spotlight sitting on his mother's lap and being a good baby.
By: Leslie Vasquez
Photo credit: The Irish Sun