The year 2019 was a good one for Tyler Perry, and he is taking that same energy into the new decade. His upcoming movie on Netflix, A Fall From Grace premiers Friday, January 17. He recently shared on Instagram that he writes all his shows, which has drawn both criticism and praise. While some applaud Perry for his work ethic, others feel he is not allowing talented black writers to shine. Especially with the expansion of his namesake studio, which sits on 330 acres of land, and was once the site of the former Fort McPherson army facility in Atlanta.
With shows such as The Haves and the Have Nots and The Oval Office on networks like OWN and BET respectively, Perry's latest work on Netflix is the story of gentle, law-abiding Grace (Crystal Fox), who confesses to killing her new husband (Mehcad Brooks). Her skeptical young lawyer (Bresha Webb) sets out to uncover the truth. The thriller also stars Perry, Phylicia Rashad, Walter Fauntleroy, Donovan Christie Jr., Matthew Law, and honorary Academy Award-winner Cicely Tyson.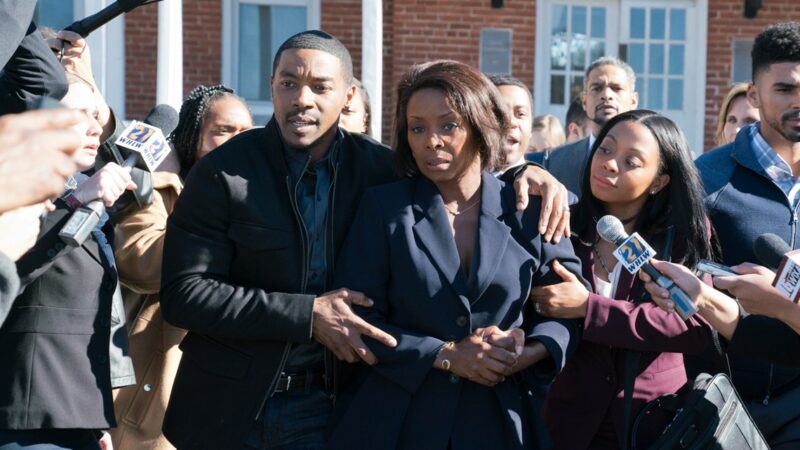 Whether people agree with Perry's approach to his shows and films, he continues to write, direct, and star in a majority of the work he produces. Reminding us of our recent interview with actress, Reagan Gomez-Preston, who expressed that her writing scripts began with a need to create roles she might not have otherwise been presented.
Perry, on the other hand, has found a way to open doors that might have been halfway ajar or closed if he went after the same opportunities in Hollywood. The compromise, if any, maybe a lack of creative diversity because Perry chooses to write all his materiel, but just like a songwriter pens tunes, is it wrong that Perry controls what he distributes through his studio? One Twitter user seems to think so writing, "How you have the largest black owned studio in [A]tlanta AND NO WRITERS ROOM?! NO BLACK WRITERS?! and then have the nerve to flex that as if you're not watering down your own accomplishments. tyler perry irks the living hell out of me."
As much recognition that Perry, receives, are the critics, but he's likely grown immune to the naysayers who have not liked his work from his early playwright days.
Perry, however, tends to keep working progressively and then he updates fans with posts much like the one he shared on Twitter. WORK ETHIC!! Come on. Let's go get 2020!!!
WORK ETHIC!! Come on. Let's go get 2020!!! pic.twitter.com/BzADIi1rAa

— Tyler Perry (@tylerperry) January 6, 2020
Whether you like his drive or question his way of doing most everything himself, Perry has become a self-made success story. He's established a media empire that has birthed 12 sound stages named after black icons. How else do you attract big-name celebrities like Oprah Winfrey, Beyoncé, Spike Lee, Samuel L. Jackson, Halle Berry, Whoopi Goldberg, and Will Smith? Well, no other place than one of the major studios around. And, Yes, it's safe to say, Tyler Perry is forging a path his way.
By La Trisha M. and La Tasha T.
Feature photo: Getty Images