In the original 1996 "Space Jam," Michael Jordan faced giant opponents called the "Monstars." In the film, the evil aliens gained their basketball moves by draining the talent out of basketball stars such as Patrick Ewing, Charles Barkley, Shawn Bradley, Muggsy Bogues, and Larry Johnson.
In the new "Space Jam: A New Legacy," LeBron James will have to face new villains that go by the name Goon squad, and just like the Monstars they are based on popular basketball superstars.
The new film will feature a new set of villains that are inspired by many of today's popular NBA and WNBA stars.
The character Wet-Fire is inspired by Golden State Warrior Klay Thompson. The 31-year-old has won three NBA championships and is a five-time NBA All-Star.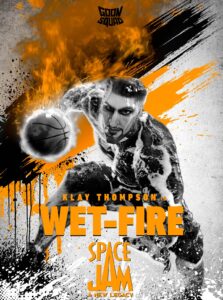 His character's special ability is being able to switch from fire and water to conquer his opponents on the court.
Diana Taurasi's character will be the White Mamba. The Phoenix Mercury guard has won three WNBA Championships and an MVP award. Due to her ability to score under pressure, she has been compared to Kobe Bryant and has earned the nickname White Mamba.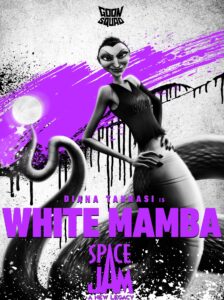 Her character is a snake hybrid who will be able to slither her way through the court and swipe away her opponents.
LA Sparks player, Nneka Ogwumike will be featured as Arachnneka. She has won one WNBA Championship, was League MVP, Rookie of the Year, and a six-time All-Star selection.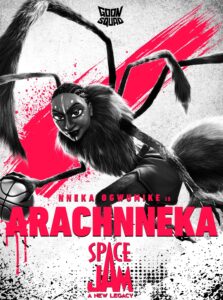 Arachnneka's ability is having eight legs to help her dribble her way through the opposing team.
Damian "Dame Time" Lillard, will be seen on screen as Chronos. Just last month, the basketball superstar was given the leaguewide distinction for Teammate of the Year. He is also a six-time NBA All-Star and earned the title of Rookie of the Year in 2013.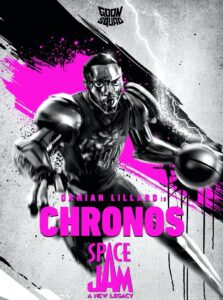 Chronos will be a metal character who will have superspeed on the court just like Lillard himself.
Also featured on the film will be LeBron's current LA Lakers teammate, Anthony Davis. He was won an NCAA championship, a gold medal at the London Olympics, and won an NBA Championship.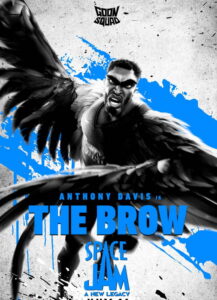 His character the Brow will sport Davis' signature brow and wings that give him the ability to fly.
Photo Credit: Warner Bros.