During an appearance on "Watch What Happens Live with Andy Cohen" on Thursday night, Hoda Kotb opened up about her current adoption situation.
The TODAY show co-anchor began the adoption process of her third child during the pandemic and spoke about its current hold.
"You know what's funny about the adoption stuff that's going on now, apparently it's really slow during this time, during COVID. I thought it would be a different game," she said.
Hoda and her fiance, Joel Schiffman are parents to two adopted daughters. Haley, 4, was adopted in 2017, and Hope, 2, in 2019.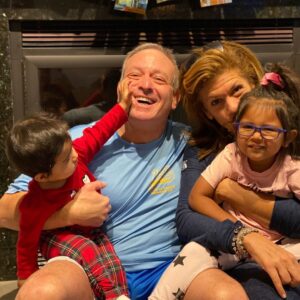 Hoda has been very open about her previous adoption and their process and often speaks about the life-changing happiness her children brought her.
"I feel like if you're meant to have a child in your life, your child is out there," said Hoda during the TODAY show in 2018.
The host of the show, Andy Cohen, also related to much of what Hoda had to say because he became a father through surrogacy.
"That's what I've heard from our agency, everything's slow, but they say wait wisely and just be, so we're just going to be," she told Cohen.
Photo Credit: Meredith Jenks/Instagram