Leah founded the faith-based nonprofit organization in 2007 with a mission to educate, empower, and inspire young girls living in underprivileged communities around the greater Los Angeles area.The annual luncheon serves as a fundraiser and opportunity to honor women who have made an impact in their communities and utilized their platforms to encourage young women to fulfill their goals. Through Leah's leadership, the Ladylike Foundation has created cutting edge resource programs, workshops that fine-tune hard skills, and mentorships that provide invaluable guidance and support.
Read our exclusive interview with President and Founder- Leah Pump
The 11th Annual Ladylike Foundation Women of Excellence Luncheon took place on Saturday, May 11th in Los Angeles with host Vanessa Bell Calloway. Honorees included Storm Reid, Marjorie Harvey, Carrie O'dell, and Jordin Sparks. Describe this year's event and share how you go about selecting the honorees?
This year's event was amazing!!! We couldn't have written a better script! We decided to showcase our girls playing a major role in this year's event. We thought this was imperative so that everyone could see what we do and how much we pour into our girls. Our girls opened up the event with an explosive dance. They introduced all of the honorees, carried the video, and we gave 9 scholarships to college bound young ladies with GPA's ranging from 4.8 and no lower than 3.5. The most memorable moment of the event was the touching thank you speech from one of our scholarship recipients, Aramoni Gumbs, who told the crowd that she took the bus to get to the luncheon that day and that she was always told that she would never be anything, yet because of the LadyLike Foundation, she realized that she can become a Woman of Excellence and in fact she "IS" a Woman of Excellence.
What was even more powerful is that Mrs. Marjorie Harvey, upon accepting her Woman of Excellence Award, asked Aramoni to come to the stage. She then went on to tell her that the LadyLike Foundation will fund her first year of college, then she and Steve Harvey will pay for the rest of her years of college. Not only that but continued her speech by saying that although she rode the bus to get to the luncheon, she wouldn't have to ride the bus home because she will be riding home with her! There was not a dry eye in the building! This moment encompasses what the LadyLike Foundation is all about, changing the lives of young ladies exponentially, one at a time.
The event also takes time to recognize its college scholarship recipients for the year. What feedback have you received from the 10 young ladies who received the scholarships?
All of the ladies who received scholarships from the LadyLike Foundation have all expressed their gratitude and will be volunteering with us during their time off from school. Each recipient was truly impressive and all had an element of need. With our scholarship, not only did we want to showcase excellence in academics but we also wanted to alleviate the financial strain that goes along with going to college.
What do you hope to accomplish for the next Annual Ladylike Foundation Women Of Excellence Luncheon? Do you have plans to expand the organization beyond the Los Angeles area?
By the next LadyLike Women of Excellence Luncheon we would love to accomplish more academic, visual/performing arts, as well and community service projects throughout the year and partner with Middle and High Schools throughout Los Angeles implementing our programs within their schools. We also would like to begin recognizing men in our community and in our world who exhibit excellence in their various fields of occupation and philanthropy.
In October I will be going to Ghana West Africa to refurbish and rebuild orphanages and schools that are in need. I will also be checking on the girls we sponsor at the Mountain High International Boarding School. Our organization has expanded internationally in Ghana and we would love to expand to other cities and states beyond Los Angeles. Wherever girls are in need the LadyLike Foundation wants to be there.
What's next for Leah Pump?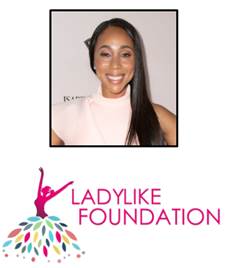 The next step for me is to find a home for the LadyLike Foundation. My dream is to have a building which houses all of our programs so that they can run weekly. I am also writing a book that talks about my life and why God inspired me to create the LadyLike Foundation. In addition, I would like to continue my partnership with schools teaching LadyLike Curriculum weekly so that we can reach and impact more girls educating, empowering, and inspiring them to reach their highest potential and become everything they were created to be.
If you could think of one thing to say to help people serve more in their community what would that be?
Whatever your passion is, whatever drives you crazy and whatever it is that keeps you up at night, that is what you have been placed on this planet to change. Start small; with a small group of people or on a small project. Pray about it and ask God to help you.  I promise you will begin to change the world one day at a time.
What are your social media handles where our readers can follow you?
Instagram, Facebook, and Twitter:
IG – Leah_ladylike
Facebook – Leah Walker – Pump