Justina Adorno's star is on the rise. Though the actress claims not to have had any starstruck moments…just yet. One would find it hard to believe given she's part of the cast of Eva Longoria's new show "Grand Hotel". Born in the Bronx and raised in South Carolina, Adorno portrays the character of Yoli in this bold, provocative drama series set in Miami.

How did your career start? 
I studied acting in high school and college, but it wasn't until my showcase in college. I had gotten signed directly after and moved immediately to New York. I did national commercials, NBC diversity showcase, and other projects like a Netflix series and television shows. It's been a slow process, but the best process.  I have been able to learn the industry from being in the background to commercials, and now being able to have a role in Grand Hotel. It's so exciting! 
Tell me your experience filming "Grand Hotel." 
It's been surreal! How natural everything has been…it's like a dream come true. It's been so easy and that has to do with our executives, writers, cast and crew. I am so grateful to be a part of the production because everyone is so genuine and talented. It's like a big family which is exactly what I hoped for. I had so much fun; from casting to parties and interviews, everyone has been so supportive. I look back and see how much I've grown as a person and an artist.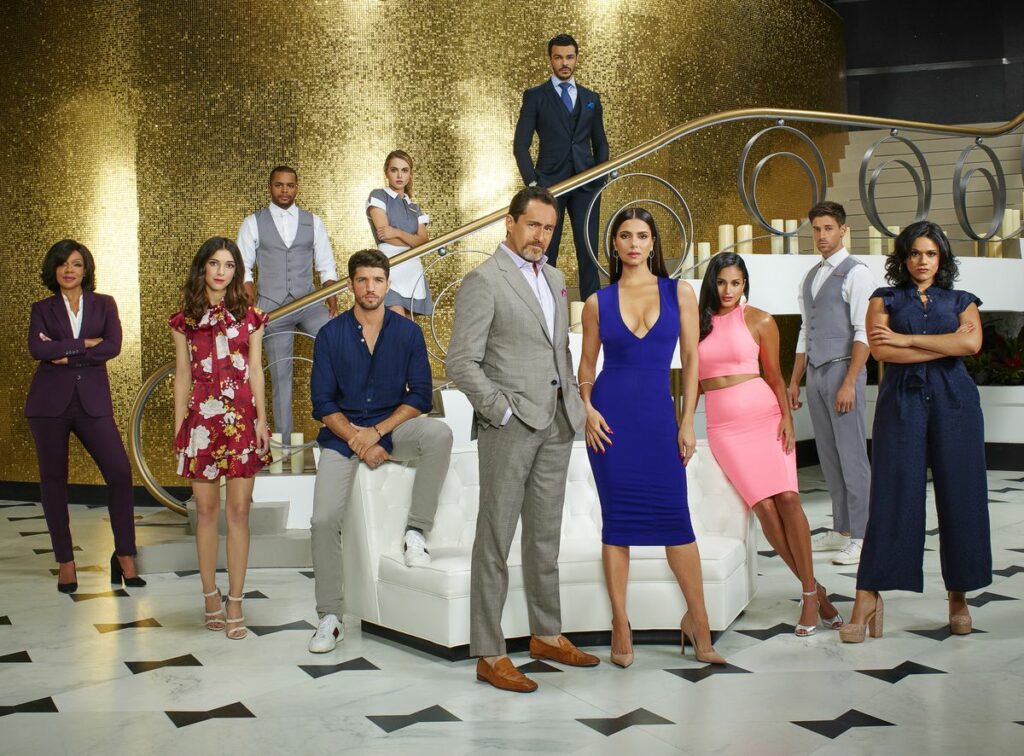 What is your most memorable part of the Grand Hotel experience? 
It's a hard question! I've enjoyed everything from being on and off set, in between takes, and being in the hair and make-up trailer. We would have karaoke sessions at 7 in the morning, everyone was excited to be with each other and share each other's life with one another. Especially with Feliz, who plays my twin sister, she's literally like my sister! We met the day we arrived to Miami and it felt like we knew each other forever. It felt like family since the very moment I talked to her on the phone. From walking down the boardwalk to get fresh coconut, jogging down the beach, it's all been amazing, but I can't keep talking about it or I'll cry (Haha).  
How was your acting experience with the Netflix series "Seven Seconds?" 
It was life changing. I had gone in for my audition, bonded with the production crew, directors, writers, and show runner. I walked out the room thinking I wasn't going to get it, but I assumed they liked me and I might be coming back. They called me back in for a few more episodes with no lines, and gave me the freedom to improv.  It was an amazing and humbling experience. I got to learn more of the production side and it made me realize this is where I belonged, and where I felt most comfortable. It was such a fun set! 
What is something you like to do for fun? 
I love eating for fun! I am vegan. I love exploring new vegan cuisines and seeing chefs master the art of plant-based foods. It's important because that's the foundation of where our nutrients come from. I love finding new restaurants and telling people about it. 
Favorite social media 
You can follow me on instagram @justina.justina which is my personal page or @justinaveganjourney which is where I post what I eat, cook, and any nutritional tips I find.  
Thank you for interviewing with BSM Media.  
Thank you, have a wonderful day and don't forget to watch Grand Hotel! 
Interview by: Jasmin Urquiza Montiel 
Photo credit: Chris Carroll