The Emmy nominated series "Bridgerton," has halted production after yet another case of COVID amongst the team.
It was decided by Netflix and producers that production on the second season would be stopped for an indefinite amount of time. They are working on being able to create a safe return for all the cast and crew.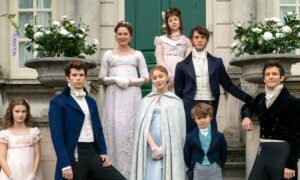 It was not disclosed whether it was a cast or crew member which tested positive for COVID this time, but the last case was a crew member.
On Thursday, production was halted for 24 hours after a crew member tested positive and resumed on Friday. Production was stopped again on Saturday after the latest positive COVID case and will remain paused for an indefinite amount of time.
The show is filmed in the U.K. where the Delta variant of the virus is currently on the rise, so to be as safe as possible, Netflix has decided to stop production until it is safer to return to set for everyone.
The Netflix series debuted in December 2020 and was picked up for a second season a month later after its success. Fans are eagerly waiting for season 2 to be released.
The Shonda Rhimes executive-produced series earned itself several Emmy nominations, including one for Outstanding Drama Series.
Follow @bsm_mag
Photo Credit: Netflix