Transformative actor Hemky Madera ("Weeds") returned to television as 'Pote Galvez,' lieutenant of the Vargas Cartel, for the fourth season of USA Network's award-winning crime drama "Queen of the South" (season four premiered Thursday, June 6th on USA) opposite Alice Braga (I Am Legend), Justina Machado ("One Day at a Time") and Peter Gadiot ("Once Upon a Time in Wonderland"). Based on the bestselling book La Reina del Sur by Arturo Pérez-Reverte, "Queen of the South" tells the powerful story of Teresa Mendoza (Braga), a woman who is forced to run from the Mexican cartel and seek refuge in America. Madera also reprised his role as Peter Parker's favorite New Yorker 'Mr. Delmar' in Columbia Pictures/Marvel Studios' superhero film SPIDER-MAN: FAR FROM HOME (released in theaters nationwide Tuesday, July 2nd) directed by Jon Watts and top-lined by Tom Holland and Zendaya. Check out our exclusive interview with the seasoned actor.
How did you prepare for your role as Pote Galvez on the series, Queen of the South?
I prepared by watching documentaries- the drug cartel, hitmen, trafficking and I read multiple books. The books were a guide to playing this role.
Since the premier of Season 4 on June 6th and without giving away spoiler alerts, what can viewers expect to see on upcoming episodes?
Viewers can expect to see a sexy show (not in a sexual way), but with adventure, action and a beautiful setting. The backdrop to the show is so amazing.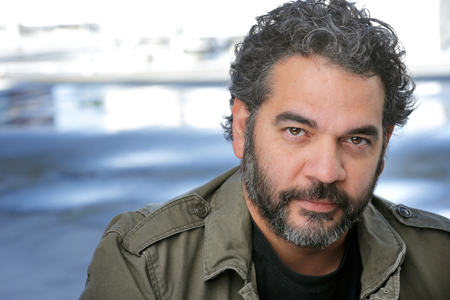 What did you enjoy most about being a part of the film, Spiderman?
It was a pleasure working with Tom Holland. He's not only a great actor but a wonderful human being. This was such a fun super hero movie. It was just awesome working with him.
You play a major role in supporting children with Down's Syndrome. Why is it so important to you?
I'm from the Dominican Republic and there are so many children with it.  They are beautiful children. You just have to spend time with them. They are just amazing.
How do you feel about the crisis at the border?
It breaks my heart when I think about the situation occurring at the border. These kids aren't criminals and shouldn't be treated as prisoners. From infants to young adults, they will suffer from this traumatic experience for years to come.
How do you think we-as a human race-can help with this situation?
America is the most beautiful country. Know your rights. Speak up. Make calls to your Congressman. Show your concern for these babies and children. Put pressure on the responsible parties. Do the right thing!
What's next for you?
I will be promoting my wife's music. She has a new video for her song, Holy Water. I am so blessed to have a wonderful wife and family. Both my wife and kids are artists and I'm very proud of them. My wife is very talented. I plan to take the summer off to prepare for our move to Nashville. This is my wife's time to shine. She's so amazing. I also have a new movie coming out soon. I'll share more information at a later date.
How can fans reach you on social media?
Instagram and Twitter– HEMKY
Thank you for your time. We're looking forward to reconnecting with you soon.
Yes!
Interview: Twins of Media (La Trisha and La Tasha)
Source| Anderson Group | Photo: JP San Pedro