"I'm loving Houston. The energy. The people. It's just so amazing. I'm just grateful," says Tabitha Brown. The wife, mom, actress, vegan influencer, entrepreneur, and now New York Times Best-selling author recently visited the fourth largest city in the country for her sold-out "Feeding The Soul" book tour. "I'm going to have to come back," she vows.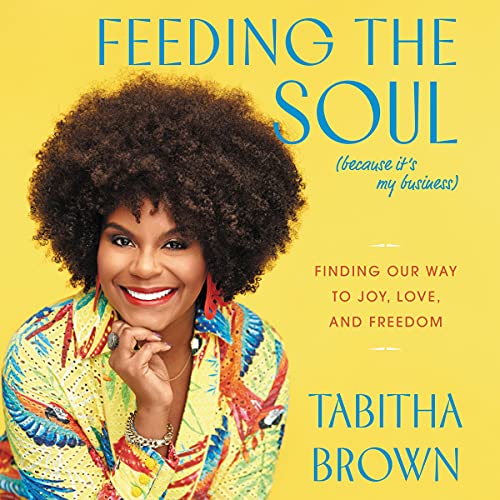 "Wearing a striped dress under a long denim kimono with patterned sleeves and tiger print-inspired vegan high heel boots, a J. Bolin creation. Tabitha's glow was on full display as she and "Donna," who, by the way, was beautifully coifed, has basked in all the love she has received from state to state, including the city of H-Town. "I never expected anything from this, but God has truly blown my mind," says the actress.
CAA and TEDx speaker Ivy McGregor moderated the evening's event on stage at The Fountain of Praise and Tabitha answered the questions the audience came to hear, including the Instagram video post this past summer of 'The Chi' star responding to Wendy Williams' critique of her marriage with love and compassion.
A natural-born comedian, Tabitha kept the audience laughing with her infectious humor about family, like mentioning husband Chance not understanding her daily videos "to the people" at the beginning but now says, "you better turn that camera on." The room exploded in laughter.
Hers is a journey where she acknowledges who helped her to get to where she is today. Daughter Choyce introduced the "What the Health" documentary to her family. At the time, Tabitha experienced depression, chronic fatigue, vision challenges, and major anxiety, believing she would not live to see age 40. In those first 30-days going vegan, her life changed in an instant. From her viral Whole Foods video review of the "TTLA" (tempeh bacon, tomato, lettuce, avocado sandwich), don't forget the pickle to her obeying God's instructions to do Facebook Lives daily. It's where she cooked up different vegan food recipes infusing it with storytelling, jokes, and lots of "Hello There" love. Tabitha says her path to wellness ultimately came with "getting to know Tab."
Nothing was more sentimental of the evening than when Tabitha talked about her mother, who passed away from ALS in 2007. The woman who Tabitha says spirit was very much like hers continues to this day to leave dimes (coins) around to let her daughter know she hasn't left her side.
Backstage after the Houston tour ended, we asked Tabitha how she felt about all that's taken place in her world? "I feel full, and I'm thankful for all the support," says "Donna's Recipe founder.
With the success of her U.S. tour, an international run seems like the next step. "Honey, I hope so. That's what we are working on right now, the international book tour. People are begging for it. Every day I'm getting messages, come to London, Canada, and Japan. I'm like, I ain't even know, y'all knew me over there (laughs).
"I start full," says Tabitha in response to how she refuels after giving out so much of herself to others. "I don't ever pour myself out empty. Every morning when I start over, I start with me first." And what does she want the people to know that watch her? Tabitha answers with none other than one of her most infamous catchphrases. Look, Gone about y'all business. "Have the most amazing day, but even if you can't have a good one, don't you dare go messing up nobody else's."
Watch the video clip of Tabitha Brown's interview with BSM Magazine Twins of Media.
Photo (book) courtesy of Tabitha Brown