Some people are fortunate enough to meet their soulmate at first glance.
They can meet someone in a supermarket, lock eyes, and can instantly know they will be together forever. Other people's love story may differ.
Chip Gaines and Joanna Gaines's love story is far from a fairytale or love at first sight.
The HGTV power couple were not always #Goals.
When the methodical Joanna Gaines (Joanna Stevens at the time) went on her first date in 2001 with the polar opposite of her, goofy and always optimistic Chip Gaines, she was sure that would be their first and last date.
In Magnolia Journal Joanna said, "For one thing, I was typically attracted to guys who were more on the quiet side."
"Based on our first date, it was clear that Chip was anything but quiet. He was all over the place, talking about the businesses he'd started, and these ideas he had, and how he was buying up little houses and flipping them, and I was wondering if he was just a bit crazy."
"In my mind," Joanna said in their quarterly magazine, "I somewhat instinctively checked his penchant for risk and chatty nature as two reasons we probably wouldn't go on a second date."
Chad Gaines's experience was quite different.
While Joanna was ready to never call Chip for a second date, Chip was busy falling in love at first sight.
"I was the type of guy who could sell ice cream to Eskimos," he said in What Makes a Marriage Last, very confident in himself that he could charm anyone he encountered.
"I knew I'd marry her one day," he said to PopSugar. He recalled the time he had spotted a photograph of a pretty girl at a Waco automotive shop and instantly knew she was The One, he just had to meet her in real life.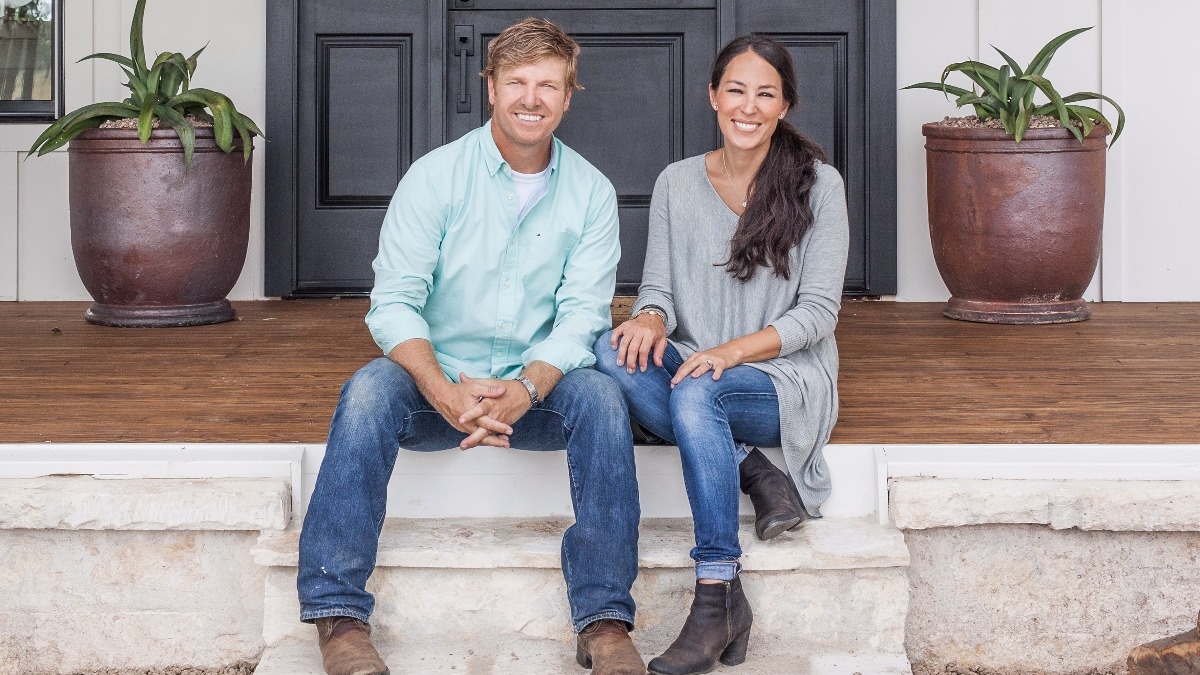 "I joke, I mean, I got my brakes fixed once or twice a month whether I needed them or not just to try to have the opportunity to meet this fox," Chip said on an episode of Harry.
In October of 2001, his chance of a lifetime finally arose.
"One day I was walking out of my dad's store and Chip was walking in, so we kind of hit each other," Joanna said in What Makes a Marriage Last. "He said, 'Hey, you're that girl in the tire commercials.' And I thought to myself, Oh, no, this is one of those guys."
Luckily, she decided to give him a chance, because he called the tire shop the next day to set up their first date and the rest was history.
Joanna was already skeptical of the date, and what added fuel to the fire was when Chip arrived for the date an hour-and-a-half late.
"He didn't apologize for being late, either. He had so much confidence. I don't know. I can't explain it," Joanna said in their book, The Magnolia Story. Even with the odds stacked against him and her doubts lingering, she could not help but be captivated by his charm.
Joanna always pictured herself with a quiet partner, and Chip was a chatterbox on their first date. All the while, she knew in the back of her mind that he was Mr. Right.
Those feelings were short lived when Chip did not call her for months because of a $50 bet with a friend to see who could go the longest without reaching out to their dates. Crazy right?
He finally reached out in January and treated her to a long-awaited second date.
Four months later, he told her that he loved her. She did not reciprocate that feeling immediately, but two weeks later she returned the statement.
Chip never pondered marriage or children, but he was now contemplating both.
A year into their relationship, Chip took Joanna to a jewelry store, got down on one knee, and asked for her hand in marriage. He then asked her to select whichever ring she would like.
They wed on May 31, 2003, and now share five children together.
"Match made in heaven is not the term you would use to describe us," Joanna told People magazine in 2016. "But when we mixed our personalities together, it created a spark."
The couple faced financial hardships during the early stages of their marriage, and one day they caught a break.
A producer contacted them after spotting Joanna's self-taught work on DesignMom.com and were inquiring if they were interested in being on television.
Due to their years of financial instability, they were quite hesitant to say the least.
"That's a scam," Chris said. "Don't call them back."
It is a good thing they did!
In 2012 producers at High Noon Entertainment caught a flight to Waco, Texas to capture the moment Chip showed wife Joanna a houseboat he purchased. The houseboat was rather unsightly to Joanna, but the crew continued to film as she moved past her skepticism to help and support her husband with transforming the trash into treasure.
This caused a lightbulb to switch on for the crew and caused them to return later that year to film a pilot about the couple overhauling their 100-year-old farmhouse.
"That evolving business model was just the thing that pushed the concept of a Chip-and-Joanna TV show over the top," Joanna said in The Magnolia Story." The folks at HGTV loved the idea of following home buyers through the process from start to finish, from selection through renovation, with a big reveal at the end when they finally saw the finished product."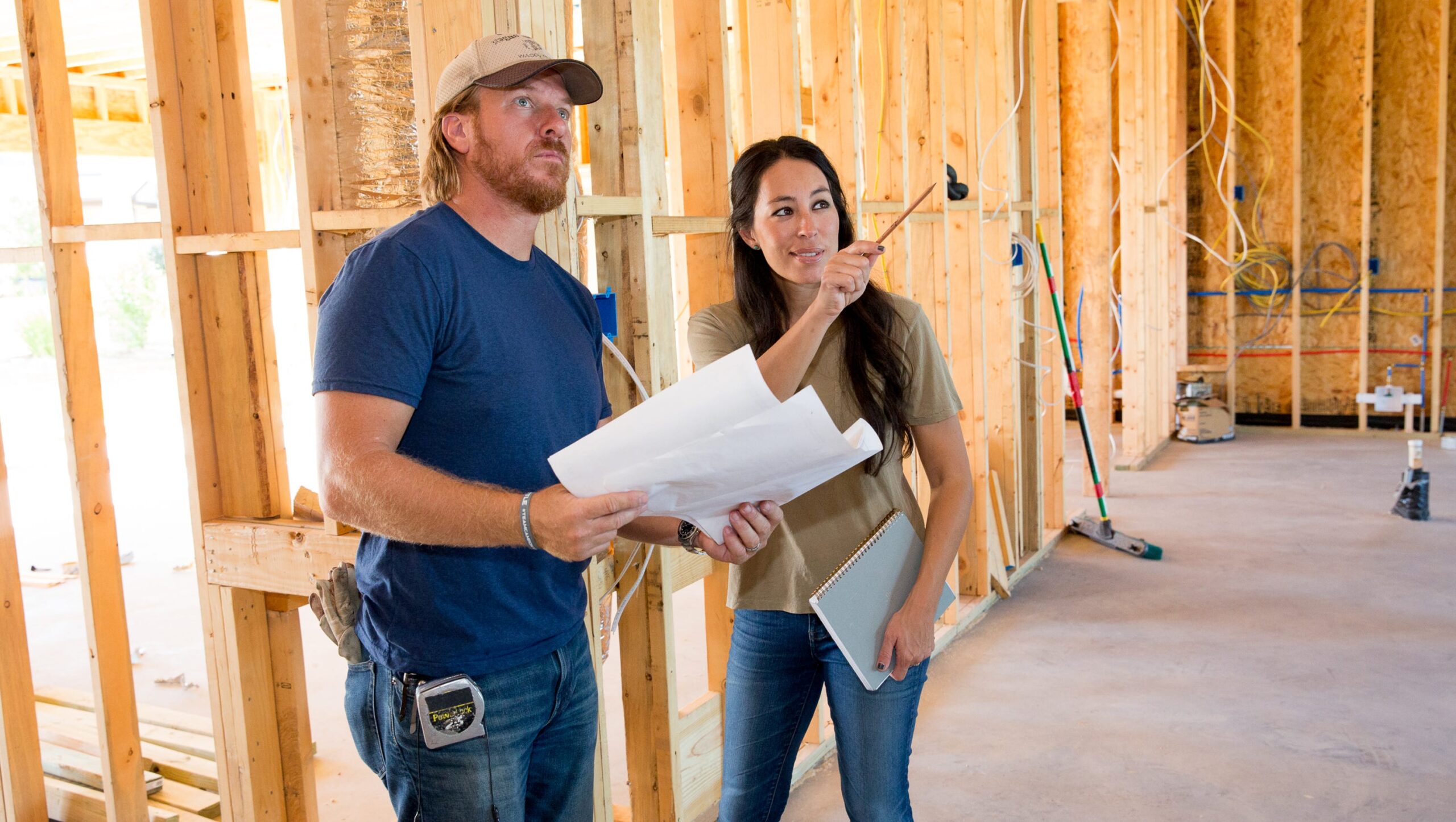 The couple quickly skyrocketed to the reigning king and queen of home design after Fixer Upper premiered eight days before their 10th wedding anniversary on May 23, 2013.
Aside from their successful business ventures thousands of fans, the couple reiterated just how much of a normal couple they are.
"For my part, I've always told myself, 'I don't ever want to change Chip Gains,'" Joanna said. "Because if my job as a wife was to change him, I would fail miserably. The whole point of marriage is not to change each other—it's to grow together. I always wanted to let Chip be Chip and trust that, as I was growing, he was growing, too, so that we're growing together."
Chip and Joanna Gaines's story may not have started as a fairytale, but the love that they share now is synonymous to "happily ever after".
Featured photo credit: Nathan Congleton/TODAY