Many people believe in giving the ones they love their flowers while they are still here, and one breast cancer survivor from Houston, Texas has received her flowers and so much more. Did I mention it was all a surprise?!
Gwenn Pierre, who is a minister, missionary, chaplain and so much more, was diagnosed with stage-1 breast cancer in September of last year. She has done missionary and ministry work around the globe and has always poured herself into others, so two companies came together to pour into her.
The woman of the hour believed she was on her way to an interview to speak about her battle with cancer, but unbeknownst to her, she was on her way to a full day of pampering, a complete makeover, and a photoshoot!
She arrived in a limousine and immediately came inside to begin getting the star treatment. The treatment included getting her make-up done and a custom hairpiece. The make-up artist was Satori Butler (@resilientbeauty_mua) and hairstylist Ebony Stroder (@iconicedgebeauty). They both expressed how honored they were to be chosen to be a part of the team.
While she was getting her make-over, the rest of the team was on the other side of the building trying to excitedly keep everything else hidden. There were flowers, gifts, sparkling cider, clothing options, and several photosets.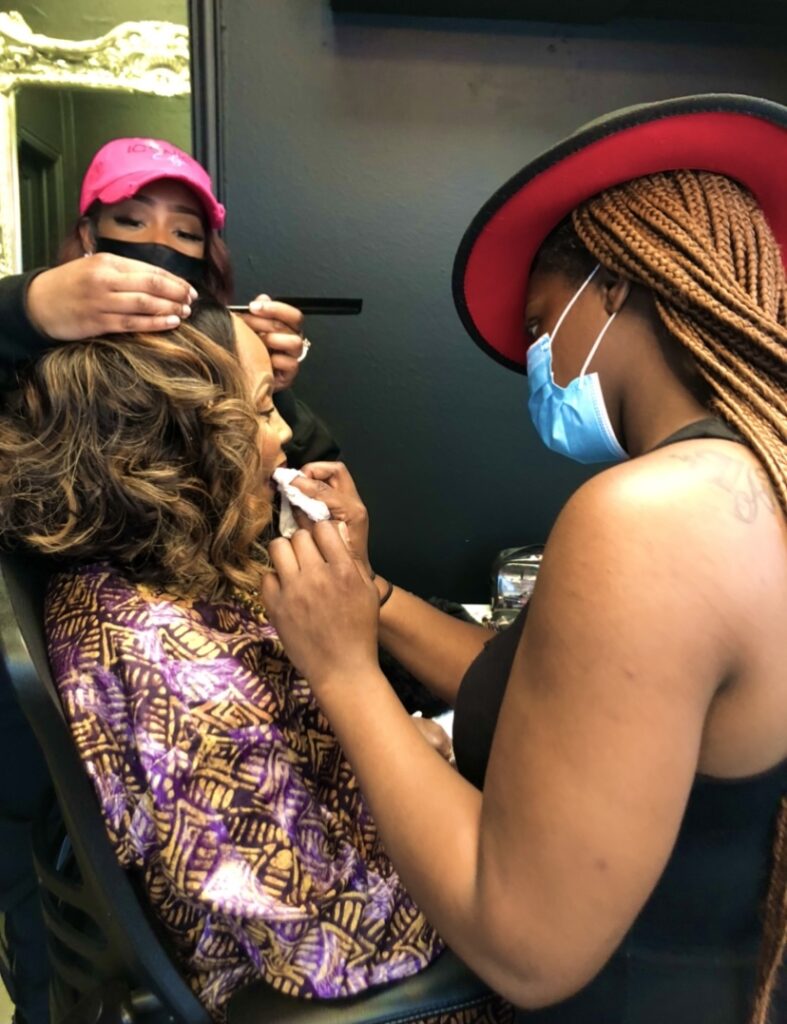 The photo studio and wardrobe for the photoshoot were provided by Martha Elmore Berry, founder, and owner of I'MarE Boutique and I'MarE Glam House. When asked why she decided to open her studio for the occasion, she said, "It started out as a space for my personal shoots, but it was so much 'glam' not to share. I've housed video and photoshoots, proposals, and baby showers, so I was honored to be able to provide the studio for this occasion."
Along with I'MarE was Tava Cares, Inc., which is a non-profit organization that provides financial assistance and other resources to women diagnosed with breast cancer, along with their caregivers and families. The events of the day came about through one of their initiatives called "Retreatment Plan." As opposed to regular treatment plans provided by a doctor, their goal through this initiative is to treat patients to a day of pampering and spoiling.
Jalene Mack, executive director of Tava Cares, said, "Gwenn Pierre just so happens to be the Chaplain of Tava Cares, and she's always pouring herself into others, even in the midst of her own battles. We wanted to use this opportunity to pour back into her, as she does for so many others."
La'Torria Lemon, the publicist for both I'MarE and Tava Cares, said, "I reached out to both of them about wanting to do something special to celebrate a cancer patient. When you think of Valentine's Day, you think of romance, but I wanted to change the narrative and say, 'let's love on each other, especially those who may be experiencing something unique in this season." She described Pierre's smile as "infectious," and spoke about during every encounter with her, she made her instantly feel better.
When her make-over was finished, she was ushered into the studio area where she was surprised to see cameras, set-ups, and smiling faces. At this moment was when it was revealed that she was not only having an interview but a full photoshoot! When she walked in, she was handed flowers, gifts, and a glass of sparkling cider.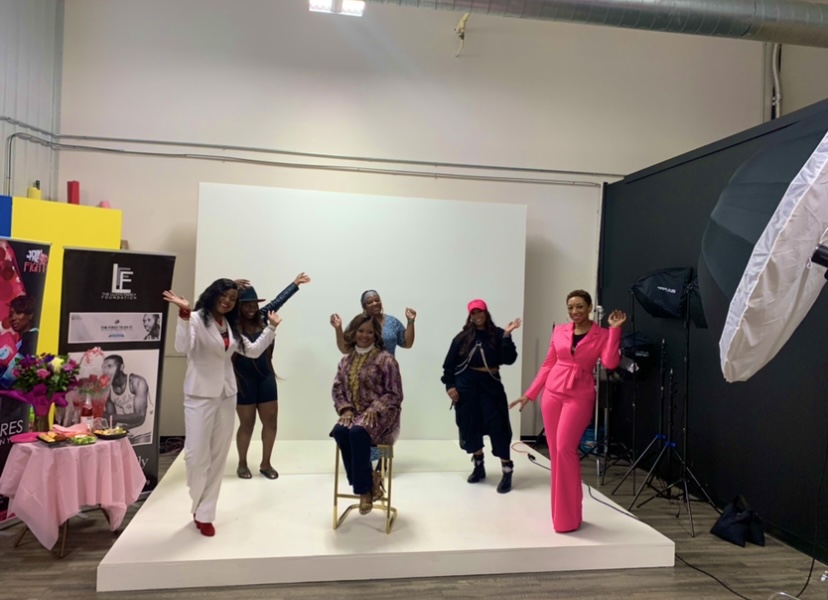 One of the gifts she was presented with was a string of pearls. The smile she bore ran from ear to ear as she stated that pearls were her favorite jewels. Pierre began telling a story: "Do you all know how pearls are formed? It starts out as a speck of dirt, an irritation, in an oyster bed. They don't have fingers like we do to remove it, so over time, they secrete layers upon layers of film; thus, a pearl is formed years later. That's what God does. He forms something so minute, so insignificant, and turns it into something beautiful." She then added, "Did I also mention that the black pearl is the most expensive," with a wink and a grin.
As a result of her comforting spirit and welcoming embrace, she quickly became affectionately known as "Auntie" to everyone in attendance.
From there she began her photoshoot which consisted of several different sets and outfits. When asked how the day made her feel, she said, "It's been so affirming…so much love."
Pierre revealed that she completed her last round of chemotherapy recently, and the room erupted with cheer and praise. "My faith is real," she said.
She began speaking about the love and support she is received from her family. "I'm from a large family, and we are really close-knit." She added, "I'm 1-in-11 children, there's 8 of us left, and I have 125 nieces and nephews!"
"Wonderful, blessed, and younger!" was her response when asked how she felt after her full day of glam. "Just so overwhelmed with love."
It was a truly beautiful day, for a beautiful spirit indeed.
Photographer: Jeanique Williams – Instagram: @globanaphotography
Make-up artist: Satori Butler – Instagram: @resilientbeauty_mua
Hairstylist: Ebony Stroder – Instagram: @iconicedgebeauty
Studio/Wardrobe: Martha Elmore Berry – Instagram: @imareglamhouse/@imareboutique
Follow @bsm_mag on Instagram