Vanessa Williams received heavy criticism for her song of choice during the PBS "A Capitol Fourth" broadcast  before even performing.
The former Miss America turned singer, actress, and dancer and this year's "A Capitol Fourth" host announced that she would be singing "Lift Every Voice and Sing," a song now known as the "Black National Anthem," during the show.
The shows host spoke about performing the song in a promotion before the show aired.
"It's in celebration of the wonderful opportunity that we now have to celebrate Juneteenth," USA today reports Williams saying.
Angry conservatives on Twitter began calling the performance of the song "divisive," "racist," and "segregation" because it was not "The Star-Spangled Banner."
Many others also took to Twitter to support Williams decision and blamed the outrage on social media.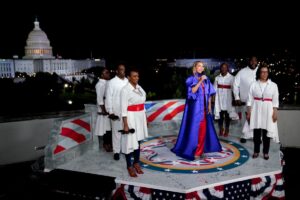 "I dedicate this to our ancestors, to our new federal holiday Juneteenth and to all who celebrate freedom," she said.
Williams also said that during her performances, she was "filled with the spirit of freedom and the perseverance that is required to achieve that most precious right."
Williams has released no other comments.
Follow @bsm_mag
Photo Credit: Getty Images