Let us talk about how pure and humble Beyoncé and Meghan Markle were towards each other, when they met for the first time at the London premiere of The Lion King.
Beyoncé who is the voice of Nala in the live-action Disney film, attended the UK premiere with her husband Jay Z. The Duke and Duchess of Sussex had the sincerest approach when greetimg the Carters.
As Beyoncé leaned in to hug the Duchess, she said, "My princess." Leaving fans going crazy with excitement as they know how much Beyoncé and Jay Z admire the Royal couple.
https://www.instagram.com/p/Bz6AtsVnwvv/
As both couples complimented each other and talked about their children; Prince Harry bragged about his newborn son, Archie and how he lifts his own head up. Harry could be heard asking, "How are the twins?
"They are not here, they don't come on every trip," replied Beyoncé. "We left them at home. They would loved to have been here."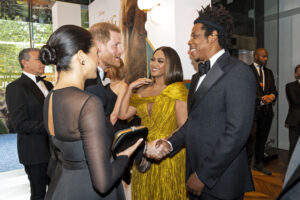 As a father of three, Jay Z left the Royal couple with some great advice to live by.
"The best advice I can give you, always find some time for yourself."
As the couples said their goodbyes, Beyoncé told the press that Meghan and Harry were "so sweet."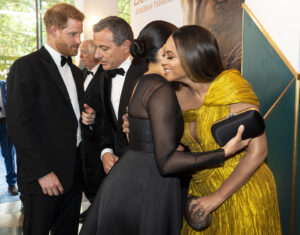 Wow! The amount of excitement and happiness seen in these pictures  definitely tell how special the encounter was for both couples.
The Lion King premieres in the U.S. on July 19.
Written By: Jasmin Urquiza Montiel
Feature Photo: People