On Sunday, track and field star Sha'Carri Richardson was spotted in the audience at the ESPYS.
During his opening monologue, Anthony Mackie shared a special message to Johnson who will no longer take part in competing in the Tokyo Olympics.
"USA Track and field, how do you mess it up, dawg? How do you justify banning Sha'Carri Richardson for smoking weed?" said the actor.
He continued by saying, "Weed is a dehansing drug. It doesn't make you do anything, but want to watch another episode of Bob's Burgers… I don't know how you justify not letting her run."
On July 6th, it was reported by NBC News that Sha'Carri wasn't selected for the U.S. 4×100 relay team despite winning the 100-meter race during the trials.
The track star faced a one-month ban after testing positive for marijuana and violating the 2021 World Anti-Doping code.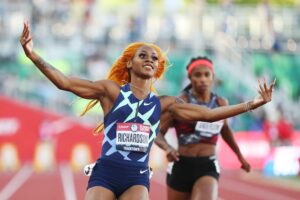 In an interview with Today, Sha'Carri said, "I know what I did, I know what I'm supposed to do, I know what I'm allowed not to do, and I still made that decision."
She explained that her choice was made after hearing the news that her mother had passed in the middle of an interview, and that the news sent her into "emotional panic."
Mackie also shared his support for Naomi Osaka who chose to step away from tennis to focus on her mental health.
He concluded his opening monologue by saying, "But hey, what do I know? I'm tripping, right? I'm just Captain America."
Photo Credit: ABC/ Getty Images