Emmy Nominated actor Anthony Anderson and Show Creator Kenya Barris Discuss the New Season of Black-ish
Anthony Anderson's comedic personality seems to always be on. So much so, his intro to our media interview started like this, "I thought this was the Empire call, I think I gotta call back in. I'm supposed to be on the Empire call today."
Funny guy!
BSM Magazine caught up with creator and executive producer Kenya Barris and Anthony Anderson to discuss the second season of the popular sitcom Black-ish which airs tonight on ABC. Many may know Barris from other well-known shows like The Game when it appeared on the CW, Girlfriends, and Fox's I Hate My Teenage Daughter. Barris has also sold tons of pilots to several networks including American's Next Top Model which he co-created.
"I will like to add that I created stuff and sold pilots too. Umm, never mind…go on Kenya," jokes Anderson. Immediately, Kenya piggybacks off of Anderson and adds, "This is not the Empire call right?" Both men burst into laughter when Anderson responds, "No, that call is at 11:30— Kenya. I just checked my schedule."  Clearly the camaraderie between the two is great and their teasing manner toward the show Empire was hilarious.
Black-ish has enjoyed great success since its debut in 2014. Kenya and Anderson explain the show is based on the experiences from both of their lives. Successful black men who are trying to raise families better than when they grew up but still remain true to their roots. Kenya explained the secret to the show's success is largely attributed to the relationships between the writers and performers. He mentioned past shows such as Seinfeld and Everybody Loves Raymond as examples of such a dynamic. "There are unique relationships and connections between myself, Anderson, and the cast," says Kenya. "We have an amazing set with Laurence Fishburne, Tracee Ellis Ross, and my family…it just all comes together," he adds. Anderson says the entire team could have only hoped for the show to have been the success that it's become. "We knew that we were doing something special and great," says the actor. "I think what resonates with the people [public] is our ability to tell stories as truthfully as we can with a sense of humor," Anderson explains.
The stories from Black-ish are not made into a black or white issue but from the perspective of a black family handling societal issues. The show was created to center around a family living the American dream with parents who are able to give their children better than what they had while growing up. It's about the success of Anderson's character, Andre "Dre" Johnson both personally and professionally and what goes on with him on a daily basis. Anderson believes people can identify with his character. Black-ish prides itself with telling stories that are divisive and where it provides two sides of the dialogue to show different points of view. "It's starting conversations across the board and nation about topics that people deal with in everyday life," explains the comedian. Such conversation is the use of the "N" word which the show will tackle this season.  Anderson admits to using the word himself but tells a story of when he visited South Africa. He says he got off the plane and was greeted by natives using the "N" word as a way to say hello. What had been an exchange of endearment for Anderson and his friends over the years sounded much differently coming from the people of Africa. He mentions the late Richard Pryor who had a similar experience himself as he continued on. This topic alone is one of the reasons Black-ish is staying true to telling honest stories.
There have been more than 7 million viewers tuning in each week and Kenya says some of the success is linked to the fact that America was ready for another black sitcom. Both he and Anderson are not worried about the competition from other shows. They're both interested in continuing to provide quality television.  Anderson says it's a tremendous compliment to be compared to past sitcoms like The Cosby Show, but he also thinks it's important that Black-ish makes its own mark in this era. "Before Empire and Fresh Off the Boat…there was Black-ish. We have opened up a lane. Wednesday nights has become the go-to spot for television because of the success of our show."
At the time our story ran— the 68th Annual Emmy Awards had already televised. Anderson was nominated for Lead Actor in a Comedy Series. The win ultimately going to Jeffrey Tambor (Transparent). Anderson reflected upon his nomination and had this to say, "Personally, it's a great accomplishment.  I would be lying to you if I told you that it's not something that I wanted and dreamed of as a kid growing up. You know, I don't need awards to validate who I am or my talent, but it's also great to be recognized by your peers.  I'm accepting of that and I am over the moon with that."
So how does the man who is enjoying extreme success celebrate special moments with family? "We celebrate every day. Every day I get to go to work to keep the lights on…we celebrate," jokes the Black-ish star.  Anderson said his family was happy for him when he received his Emmy nomination; what's important to Anderson is how he is recognized by his family and the contributions they see him making in the world. His son has gotten into the business as well. We asked Anderson if we'll see him join dad on the small screen? "My son will be guest starring on our television show this year."  Anderson proudly responded. "We celebrate every day!"
Anthony Anderson kept the entire interview fun. Success without family is nothing as we gathered from the comedian. He keeps his loved ones close. We get the celebration of it all with this actor and family man.
Oh, by the way, Anderson, lol! We promised him we were laughing at his jokes throughout our conversation. His reply, "Thank you, baby, thank you!"
We wished show creator Kenya Barris continued success. He thanked us as well.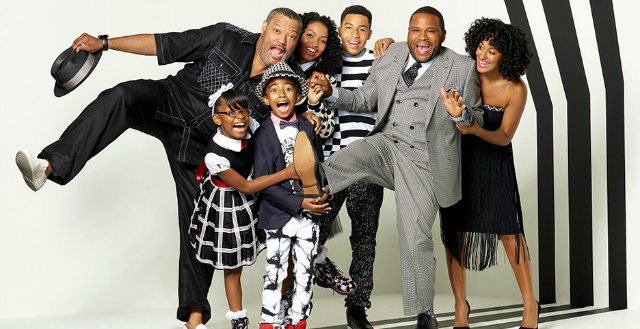 Season 2 of Black-ish airs tonight on ABC 9:30|8:30c
By Twins of Media
Feature photo: gazettereview