Three-time Emmy Award winning journalist, Chauncy Glover held his 3rd Annual Black Tie Gala Friday, June 21st. The red carpet ceremony took place inside the Wortham Theater Center in Houston.
The ABC13 anchor/reporter is the founder of the Chauncy Glover Project (CGP) — an extensive hands-on mentoring program created to groom inner-city teenage boys into upstanding and accomplished gentlemen. This year, the organization awarded leaders in the community who continue to foster Chauncy's vision. Sheldon TheraGood ("My Brother's Keeper"); Earlene Buggs ("Woman on the Move"); Trae Tha Truth ("Heart of Houston"); Keith "Mr. D-MARS" Davis, Sr. ("Spirit of the Entrepreneur") and Dr. Remus E. & Co-Pastor Mia K. Wright ("Forward in Faith").
Along with the honorees— were others in attendance like CGP Project Coordinator, Christina Porter and Influencer and author, Jolanda Jones. Porter, a native of Houston, Texas, by way of Louisiana called the gala a "beautiful experience," and something everyone involved with— worked toward all year long.  Jones, who was a presenter from last year's gala, was there to support Glover and called the organization "wonderful!" But it was the man, himself, Chauncy Glover whose heart and soul poured into the ambiance of the evening. From making sure the red carpet was set up— to tending to his group of CGP Gents and Young Gents while hurrying off to get dressed, he was every bit hands on from start to finish. "CGP is my life! I am so proud of this organization. I'm just blessed that I am able to be a blessing. I know this is my purpose and I am walking in it."
With all the fanfare and red carpet activity, was an even more important message presented on the playbill. "For colored boys who have considered suicide: When love and mentoring is enough." The show was dedicated in loving memory of Kevin Reese, Jr.  (July 24, 2008—January 21, 2019)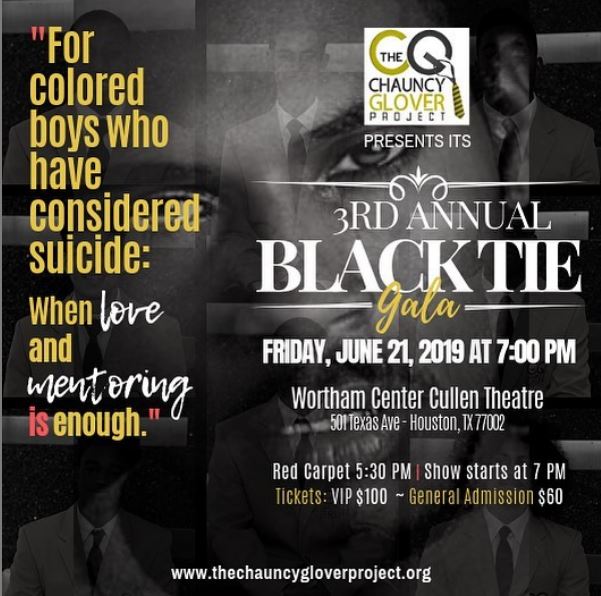 The evening started with a video presentation from the Chauncy Glover Project Houston. Greetings were provided by Mayor Sylvester Turner (City of Houston), U.S. Representative Shelia Jackson Lee (18th Congressional District), and Wanda Adams and Jolanda Jones (Houston Independent School District Board of Trustees).
The program included a silent auction which took place during a brief intermission. The honorees were presented their awards during the ceremony along with a 'Special Presentation and Founder's Address.'
CGP Gents & CGP Young Gents gave a special performance and were introduced to the attendees in an Afterglow Reception, in the lobby. Music and Afterglow entertainment was provided by Westbury High School Jazz Ensemble.
The show was written and directed by Chauncy Glover and produced by Chance Nichols and Bria Landry with Anthony Nicholson as the musical director.
With powerful affirmations such as… "I am Confident. I am Respectful. I am Faithful and Powerful. I AM A LEADER… CGP, is proof that positive exposure; enrichment activities, along with fun, tough-love and tutoring creates better opportunities."
Chauncy shared these thoughts to sum up his gratitude to his many supporters, 'What I know for sure, "Preparation and Love" can change a young man's life. Mentoring matters, because it works. Thanks for believing in me and my team's vision. I'm thankful for your continued support to CGP.'
By BSM Media
Feature photo: Marcos Paz