Russell Wilson and Ciara have been married for six years now, and on a recent appearance on Kevin Hart's Laugh Out Loud Radio, he revealed the line that won her over on their first date.
When asked what he thought was the line that won her over, he recounted their first date and an old beat-up wallet he was carrying at the time.
Wilson said that he had put his wallet down on the table and when Ciara saw it she asked, "What the hell is that?"
She then went on to tell him, "You're losing with that."
Wilson said his response was to put his finger up and say, "First of all, with me, you're never losing."
"Second of all, that wallet, that shows consistency. That's what you're going to get from me. You're going to get somebody who is consistent for you every day. Inside that wallet, there's something that's real in there," he said to her.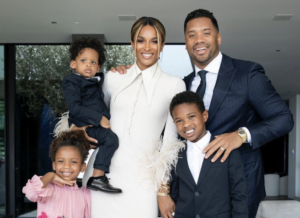 The couple went on to get married in 2016 and are now parents to 20-month-old Win Harrison, four-year-old Sienna Princess, and Ciara's son whom she shares with rapper Future, seven-year-old Future Zahir.
Photo Credit: Getty Images/ Ciara via Instagram @ciara