On Monday, it was announced that Prince Harry will be publishing a memoir with Penguin Random House.
The memoir is said to share, "the definitive account of the experiences, adventures, losses, and life lessons that have helped shape him."
The Duke of Sussex and his wife were a hot topic in the media in 2020 after they decided to split from the royal family and move to California.
They gained even more attention after their interview with Oprah Winfrey, where Meghan Markle, who was pregnant at the time, said that at one point she, "didn't want to be alive anymore."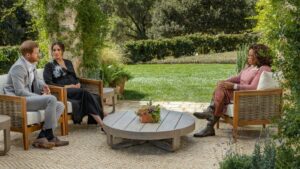 In a statement about the upcoming memoir, the Duke of Sussex said, "I'm writing this not as the prince I was born but as the man I have become. I'm deeply grateful for the opportunity to share what I've learned over the course of my life so far and excited for people to read a firsthand account of my life that's accurate and wholly truthful."
The book is set to be published by late 2022 and, Harry and Penguin Random House said that the proceeds from the book will be donated to charity.
Aside from the memoir, the Duke and Duchess of Sussex established a production company called Archewell Productions and have signed a deal with Netflix to produce shows for the streaming platform.
Their first two projects have already been announced and will be an animated series called "Pearl" and a docuseries called "Heart of Invictus."
Photo Credit: Getty Images/ Harpo Production/Joe Pugliese