The newly crowned 2020 Miss USA is from the state of Mississippi. A first in the history of the pageant. Asya Branch, a student at the University of Mississippi, won the title Monday evening at Elvis Presley's Graceland in Memphis, Tennessee. The 22-year-old is also the first Miss Mississippi USA ahead of winning the overall honor.
"I couldn't believe that my name had been called," Branch, a native of Booneville, said on "Good Morning America" on Tuesday. "I'm the first Miss Mississippi to have been crowned Miss USA and so, honestly I was just honored and overwhelmed and completely overjoyed."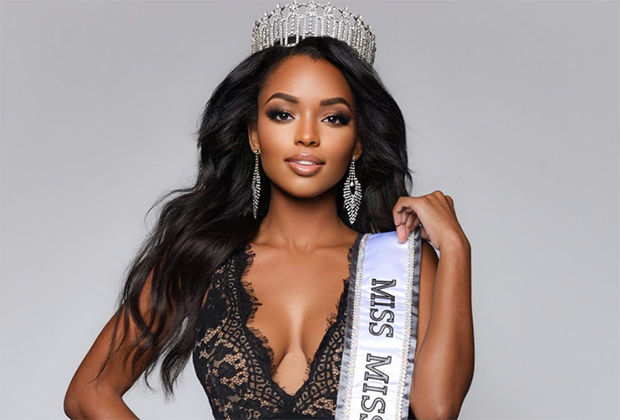 In 2019, the pageant world saw three Black women win top titles, Miss USA (Cheslie Kryst), Miss Teen USA (Kaliegh Garris), Miss America (Nia Franklin), Miss Universe (Zozibini Tunzi), and Miss World (Toni-Ann Singh). Branch's win continues to celebrate the excellency of women of color.
Branch plans to use her personal family experience (her father was incarcerated for 10 years) to set about the criminal justice system and advocate for prison reform. This she spoke on in a previous  interview with Miss Mississippi USA. 
"I will continue fighting for criminal justice and prison reform; that's something that is near and dear to my heart," Branch said on "GMA." "I hope to continue making change within throughout my reign."
The new Miss USA competed with 50 other contestants in categories that consisted of pre-recorded virtual interviews, swimsuit, evening gown competition, and in the final round, questions about a pressing topic such as gun laws.
"I think it's important that we not ban guns because obviously people will find a way to get what they want anyways," said Branch in her final statement. "But I think it's our Second Amendment right and we just need more safety surrounding that."
The originally scheduled broadcast was to take place in the spring of this year but postponed due to the pandemic.
Branch celebrates along with 2020 Miss Teen USA Ki'ilani Arruda.
Congratulations Miss USA!
Photo Credit: Courtesy