Chrissy Teigen suffers miscarriage after pregnancy complication. She and husband announced the news on their social media accounts Wednesday.
"We are shocked and in the kind of deep pain you only hear about, the kind of pain we've never felt before," said the statement posted to each of their verified Twitter accounts.
Teigen shared she had been on bed rest and bleeding for "a little less than a month," before being taken to Cedars-Sinai Medical Center on Sunday. 
"We were never able to stop the bleeding and give our baby the fluids he needed, despite bags and bags of blood transfusions," the post said. "It just wasn't enough."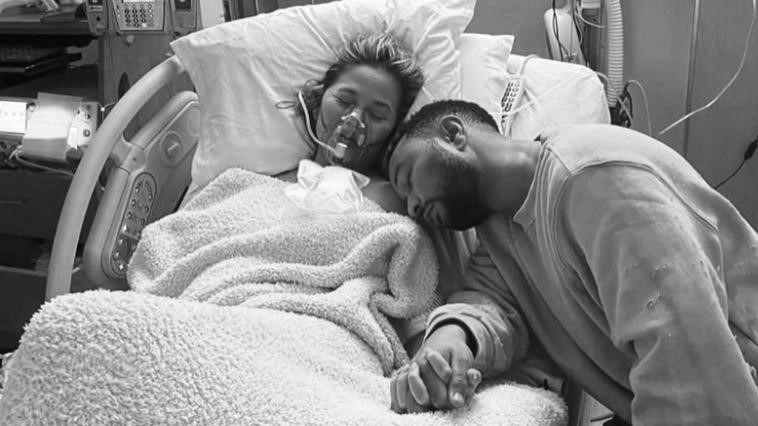 The couple says of their children's first two births, Luna and Miles, respectively, they waited to name the baby until after delivering, but this time they had already begun calling "the little guy in my bell" Jack.
"He will always be Jack to us," the statement said. "Jack worked so hard to be a part of our little family, and he will be, forever."
Teigen conceived naturally this pregnancy, which she says left her feeling "eggshelly." Her previous conceptions were through in vitro fertilization IVF.
The model and TV Personality shared with fans that her placenta was "really, really weak," after the bleeding would not stop, calling it the "darkest of days' the couple still holds on the beauty that already is.
"But everyday can't be full of sunshine," they said. "On this darkest of days, we will grieve, we will cry our eyes out. But we will hug and love each other harder and get through it."
Celebrities such as Gabrielle Union, Kim Kardashian, and Channing Tatum showed their support after hearing the heartbreaking news. Union wrote, "We love you guys so much and we will be here for whatever yall need. Always."
Photo Credit: Instagram