Daymond John reminded viewers Thursday why they should tune in to Black Entrepreneurs Day—presented by Chase for Business—a day of creative, financial, inspirational, and knowledge-driven empowerment. The Shark Tank investor returned for year two with what he called "bigger and better" the second time around. The Shark Tank investor took to Twitter the next day, still happy about the evening.
"Still on cloud 9 from last night's Black Entrepreneurs Day. It was truly a night to remember!"

Kevin Hart, Shaquille O'Neal, Tyra Banks, Michael Strahan, Marcus Samuelsson, Rev Run and Janice Bryant Howroyd were some of the cultural leaders on hand to have a conversation with John, who served as the moderator. Singer Khalid gave a musical performance.
Of course, the most important highlight of the evening was the ten recipients of the $25,000 NAACP Powershift grants, courtesy of Chase for Business, JP Morgan Wealth Management, The General, T-Mobile for Business, Salesforce, Johnson & Johnson, Shopify, Quickbooks, Klaviyo and Logitech." Those that won included Staci Childs, whose law firm Sunnyside Legal serves all Texans, but they especially help inner-city residents often forgotten.
Former NFL player turned television co-host Michael Strahan says, "Why would I want to be perfect?" In response to John asking why is it that he never closed his front teeth gap? "If I did so, I would look like everyone else." It's that part of owning your individuality that Strahan encouraged others there or watching to embrace.
Comedian and actor Hart explained that he was not always responsible with his money. But once he started having "financial" conversations, things turned around and helped him build his impressive "Hartbeat Productions" brand we know today.
"Different is better than better," says supermodel alum and now media mogul Tyra Banks. Adding, "When you are a female founder, it's not just about being different. You have to be better." Banks' latest business venture is Smize Cream, which will become the "Disneyland of Ice Cream," she says with community-initiated goals. And O'Neal, an NBA Champion (legend) and entrepreneur, says he stands behind good quality brands like "The General" Insurance as a note for people to look into businesses that serve communities with a high level of resources and care.
Black Entrepreneurs Day is a primetime special that brings together business and entertainment in the form of an event dedicated to highlighting and educating Black entrepreneurs. Launching in year 2020, the broadcast garnered seven million views and won two Webby Awards "for the best remote business and finance event on the internet."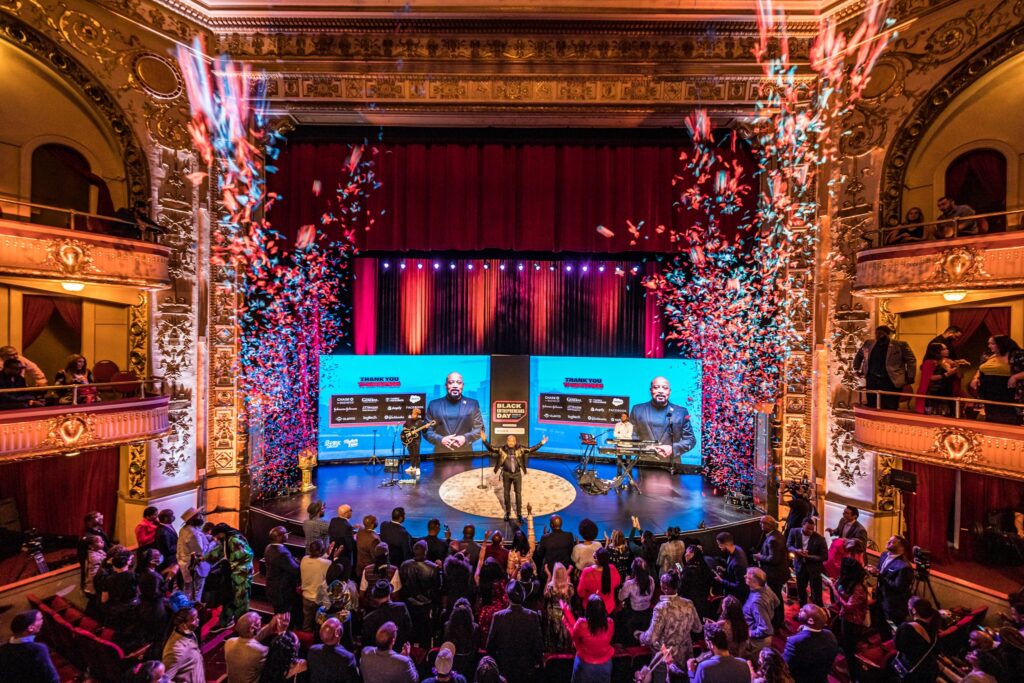 Black Entrepreneurs Day took place Oct. 14 at the world-famous Apollo Theater in New York. Visit Daymond John's Page for more show highlights.
If you tuned in to watch comment @bsm_mag
Photo Credit: Greg Doherty | Getty Images