Adam Sandler doesn't sweat the small stuff. The "Uncut Gems" actor, also known for romantic comedy films, had a hilarious response to the viral IHOP video, you know, the one where the hostess told him there was a 30-minute wait.
"For the record, I only left the IHOP because the nice woman told me the all-you-can-eat deal didn't apply to the milkshakes," Sandler joked via Twitter.
"The Wedding Singer" actor was not immediately recognized by hostess Dayanna Rodas, 17, perhaps because he was bearded, masked, and dressed causally in a red North Face hoodie and a pair of shorts while entering the New York venue.
"Not realizing its Adam Sandler and telling him its a 30min wait and him [of course] leaving [because] hes not going to wait 30mins for IHOP," she added.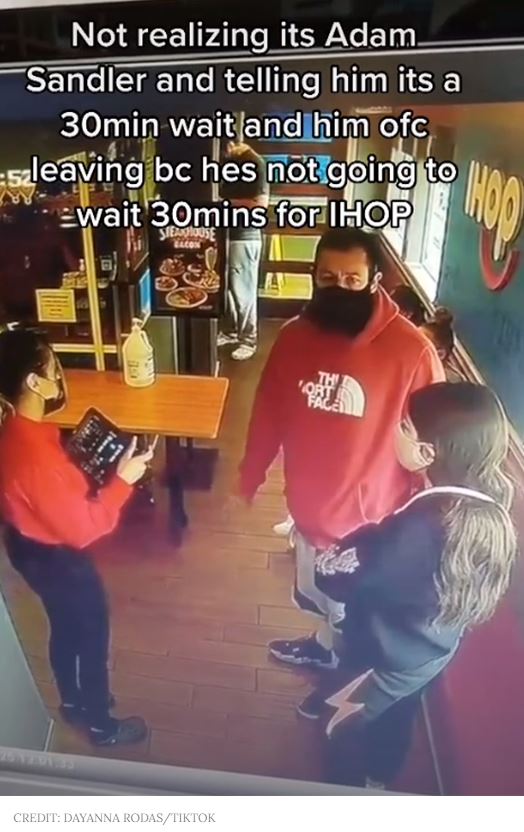 Rodas told The Post that she was clued in only when another patron recognized the superstar comedian after he left. "It wasn't until a customer walked in about 15 minutes later saying, 'Adam Sandler was outside,' when I realized I spoke to Adam Sandler!" she said.
Rodas since posted to her social media asking  the actor: "Pleaseee come back," in the video which quickly went viral, attracting over 2 million viewers.
Have you ever come across a celebrity you did not immediately recognize?
Photo Credit: Art Streiber